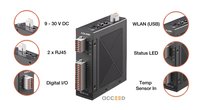 Data recording in Industry 4.0 manufacturing environments is used for identifying and collecting important information, which is also necessary as … read more
Ruggedized GPU-computing platform with rich I/O functions, designed for modern applications such as machine learning, autonomous driving, facial recognition and machine vision. Perfect for your application with customized components like CPU, RAM, SSD, HDD, PCIe etc. that we deliver, install and test.
There are no categories here at the moment.