AVA-5500: AI platform for real time video analysis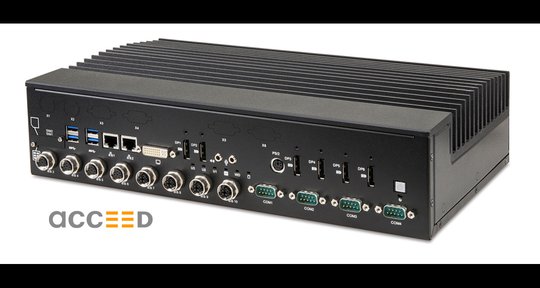 Industrial image processing, specifically the analysis of moving objects under demanding environmental conditions, develops as one of the most important factors in automation. "Vision systems" are the future, in particular in the areas of robotics, traffic control, transport safety, logistics, local traffic and in-line quality control. Video data provides important information for automated actions within numerous further application fields. The performance of the hardware used is decisive for all applications. With the new series AVA-5500 AI platform, the German distributor Acceed has incorporated a range of high-performance, robust and fanless industrial controllers, based on Nvidia Quadro GPUs, into its portfolio.
Various AVA-5500 series models are already used successfully in larger quantities in the field of railway construction, also for the automatic inspection of tracks with measurement trains at high travel speed and for video monitoring station concourses and station platforms. In their interplay with corresponding software and sophisticated analysis algorithms, these systems are able to generate warnings and alarms automatically in order to provide early information pertaining to potential dangers.
Equipped with 6th and 7th generation Intel i7 processors and the Nvidia Quadro graphics processor P5000 MXM 3.1, the AVA-5520 model offers a reliable, high-performance basis for industrial video and graphics analysis applications. Eight M12-GbE ports, four of which include PoE, serve for the connection of high-resolution cameras on the front side. Moreover, four serial DB-9 sockets, four USB 3.0 ports and two 1000 base T RJ45 Ethernet interfaces are available, also readily accessible on the front side of the compact full-metal casing at all times.
Local graphics output is possible in high resolution via two CPU display ports, four GPU display ports and a DVI connector. The working memory can be configured up to 32 GB, two internal SATA slots for 2.5" hard drives are available for local storage media. The further storage options are an externally accessible CFast base and an M.2 base (2280). Radio modules for WLAN and mobile communication (LTE, UMTS, GSM) can be integrated via the two internal mini PCIe slots, each with a respective USIM slot. Respectively four insulated digital inputs and outputs as well as connections for audio communication round-off the equipment. The connection for the 12V DC power supply, also for M12 industrial plugs, is located on the reverse side. Six LEDs on the front side, of which three can be configured customer-specifically, enable fast function control and diagnosis.
The AVA-5520 is developed for industrial application under demanding conditions and allows operation within a maximum temperature range from -25 to +70 °C, depending on the equipment. The operating systems Windows 10 and Ubuntu 16.04 are used. Its power consumption at 100% load of the CPU and graphics card P5000 is 177 W.
In addition to the AVA-5520, several further basic models from the new AI platform are available with their respective different equipment focus. Acceed provides selection advice and ready-customised and tested devices for fast readiness for use at the customer's.