DLAP-4000: For GPU edge computing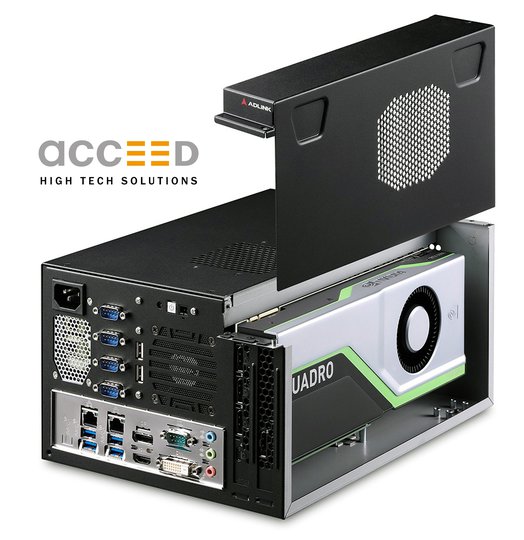 The new DLAP-4000 series industrial embedded computers are characterised by their PEG slot (PCI Express for Graphics). The PEG incorporates a PCIe-x16 slot which directly offers a higher power supply. PCIe cards in standard slots may only use a maximum of 25 watts, low-profile cards even only 10 watts. A PEG slot provides up to 75 watts, additional output can be accessed via the power supply. For edge computing tasks such as the intelligent control and monitoring of processes, machines and systems with large data quantities and complex algorithms, high-performance graphics processors such as the Nvidia Quadro models are essential. With its models, the DLAP-4000 series offers a variety of combinations with the Nvidia high-performance cards up to the RTX 8000.
The DLAP-4000 series models are extendable Box computers which are equipped by the German distributor Acceed with high-performance Quadro graphics cards from Nvidia and tailored to the customer's specific needs. The AI platforms thus configured are primarily targeted for demanding edge computing applications such as Artificial Intelligence, Machine Learning, Machine Vision and basically all solutions based on the GPU's high computing performance. In addition to the P2200 from Nvidia, the RTX 4000, RTX 5000, RTX 6000 and RTX 8000 models, also from Nvidia, are recommended.
For example, the DLAP-4001/M8G works with the i7-9700E processor from Intel with an H310 chipset, provides 8 GB DDR4-SODIMM memory, which can be extended up to 32 GB as well as the PEG slot which supports the Nvidia card. For all models, the further equipment includes an M.2 interface (SATA III), a mini PCIe slot for WLAN, Bluetooth or LTE modules and two internal 2.5-inch SATA-III slots. The I/O interface offer is also extensive: a display port (4096 x 2304), a DVI-D connection (1920 x 1200), an HDMI connection (4096 x 2160), two GbE interfaces, a configurable RS-232/422/485 interface and four further RS-232 interfaces, also four USB interfaces (3.1 Gen1), supplemented by two USB-2.0 sockets as well as an 8 bit I/O interface and audio connections. Either a FLEX ATX 300 W or 500 W is installed for power supply, dependent on the GPU selected. This enables operation in the temperature range from 0 to 50 °C with the Nvidia P2200 or the RTX 4000 or up to 40 °C with the Nvidia RTX5000/6000/8000 models.
These and further AI platforms and industrial Box PCs are available from the Official Sales Partner Acceed (www.acceed.com) in Germany. The company focuses on the edge computing, industrial Ethernet, Industry 4.0, customised IPCs for the fields of Automation, Facility Management, Logistics, Machine Vision as well as Research and Development.