ORing IDS-311F: fail-safe serial Ethernet device server with SSL encryption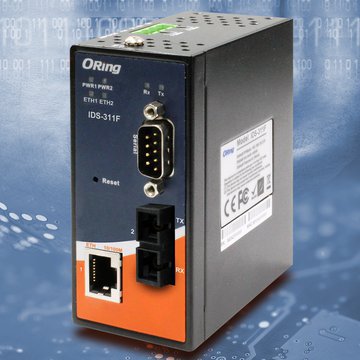 With SSL encryption and redundant power supply, the Serial Ethernet Device Server IDS-311F from ORing guarantees fail-safe network operation.
The feeding of serial data into networks is less about bandwidth than about data security and failure protection. The new industrial serial Ethernet device server IDS-311F from ORing is precisely designed to meet these requirements. Two models (multi-mode and single-mode), each with one serial port, one RJ45 port and one fiber optic port, operate with SSL encryption and redundant power supply. Operation in the extended temperature range from -40 to +70 °C is possible for robust industrial use.
The new IDS-311F device server is equipped with a serial interface and two network interfaces (RJ45 and fiber optics). Two redundant voltage inputs from 12 to 48 VDC are designed as a terminal strip and can thus ensure uninterrupted operation. With the extended operating temperature of
-With a temperature range of -40 to +70 °C and a robust IP30 housing, the server can also be operated in demanding environments in industrial plants, machines and poorly ventilated ducts or housings. This makes the IDS-311F a good solution when it comes to the secure transmission of serial data into the network, even over long distances such as 30 km with the fiber optic connection.
The operating modes Virtual Com, Serial Tunnel, TCP Server, TCP Client, UDP and Modbus Gateway are supported. Event messages can be stored or sent as syslog, e-mail or SNMP traps. The device server can be configured web-based or with a free Windows tool.
The IDS-311F supports the RS-232, -422 and -485 protocols on the serial side and the ICMP, IP, TCP, UDP, DHCP, BOOTP, SSH, DNS, SNMP V1/V2c, HTTPS and SMTP protocols on the network. For a quick overview, several LEDs on the front panel show the status of the power supply, the network activity and the transfer of the serial data (send/receive).
The stable housing with the dimensions 45 x 81 x 95 mm weighs only 300 g and is prepared for DIN rail and wall mounting. Matching power supplies with different outputs are available as accessories.
In its portfolio Acceed offers a variety of industrial device servers, media converters and other components for factory automation, building services engineering or smart home applications. The range of services includes individual device configurations as well as technical information on all aspects of industrial communication and free software and tools for setting up and operating the devices on offer.
SSL Device Server at acceed