IGAP-W99110GP+: Wi-Fi 6 waterproof and suitable for industrial use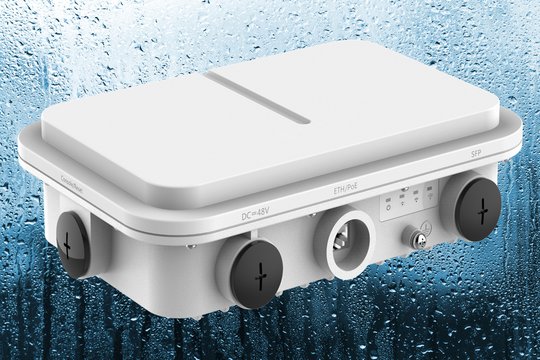 Whether on-campus, in an industrial area, a residential complex or a leisure park, the requirement for comprehensive WLAN is on the increase. This is not changed by the increasing spread of the 5G standard. Free WLAN has become a service magnet which plays a role in virtually all business fields. Stable, secure WLAN which is designed for high access numbers retains customers, tenants and own staff, to name a few examples. The outdoor area poses a challenge here. Although the ranges are further than in buildings, the requirements pertaining to weatherproofness, temperature tolerance and robustness are also more exacting. With its new IGAP-W99110GP+, Acceed from Düsseldorf has incorporated a dual outdoor access point into its programme, which is tailored precisely to these requirements with WiFi 6, IP68, PoE, a wide temperature range and a large number of security protocols.
The IGAP-W99110GP+ is a high-performance industry access point for outdoors, which works with the high-performance WiFi-6 protocol (IEEE802.11ax). An SFP port and a gigabit Ethernet port with PoE for local electricity supply are installed as interfaces for connection to the grid-bound mains.
The dual band system achieves high use flexibility via simultaneous operation with radio frequencies in the 2.4 GHz band and the 5 GHz band with an accessibility rate of up to 2.4 Gbit/s and 4 spatial streams. For example, the GAP-W99110GP+ can be connected to local devices via 2.4 GHz and to a further access point over 5 GHz to form a wireless backbone. Both bands can also be used to meet the different requirements from various devices, for example the 2.4 GHz band for a better reach and the 5 GHz band for improved performance or speed.
With the OFDMA (Orthogonal Frequency Division Multiple Access) function from Wi-Fi 6 which divides the channel into small sub-channels, several users can simultaneously transmit or receive data via the IGAP-W99110GP+ in the same channel, increasing access concentration for users. Due to constant measurement, the transmitter registers the receipt quality for the subcarriers for the individual users. Due to this knowledge it can optimise the use of the subcarriers and therefore optimise the spectral efficiency.
Thanks to MU-MIMO (Multi-User Multiple Input Multiple Output), the router can provide several WLAN devices with data simultaneously, thus reducing waiting time for WLAN devices and increasing data throughput in the entire WLAN radio network. For example, smartphones can return faster to an energy-saving mode due to shortening the waiting period during data transfer, in turn exercising a positive influence on the rechargeable battery running period.
With its waterproof connections, the casing is conformant with protective category IP68 and suitable for permanent outdoor use. It is resistant to extreme weather and other environmental conditions. With the accessories for mast installation and the incorporated beam aerial, the IGAP-W99110GP+ can achieve radio coverage in a large number of scenarios and considerably reduce the work for installation and servicing. Multi-hop and point-to-multipoint bridging functions optimise the flexibility of use.
Moreover, a wide range of QoS guidelines and ARP spoofing protection are supported. It can be managed via Telnet, SSH, TFTP and HTTP.