IGMG-P83244: Can do a lot more than a gateway in the IIoT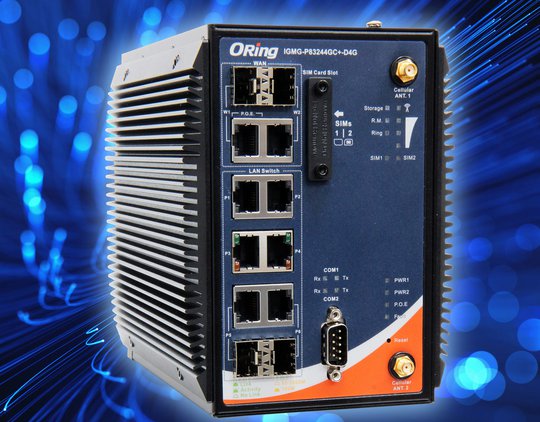 The admittedly somewhat cumbersome product designation IGMG-P83244GC+-D4G gives some idea that this machine presented as an M2M gateway for IoT applications can do considerably more than only forwarding data or conveying data between IT systems. It really is an extremely high performance controller with industrial quality which the German distributor Acceed has incorporated in its IIoT portfolio. Last but not least, the software equipment supports a large number of applications in the industrial IoT. The robust and fanless chassis design for an operating temperature range of -40 bis +75 °C is also attuned to these high requirements.
The IGMG-P83244GC+-D4G combines high-performance hardware with software components for intelligent IoT applications. A reliable Dual Core ARMv7 Cortex-A9 CPU with up to 1.3 GHz works under the cover. A gigabit Ethernet switch with eight interfaces, four of which are pure 10/100/1000 base T(X) ports and the remaining four gigabit SFP-combo ports, is integrated for the optional connection of fibre optic cables. Two serial connections for the RS-232/422/485 and RS-422/485 communication standards are also provided. The redundant power supply is designed for input voltage from 12 to 48 V DC. Typical electricity consumption is 18 W. Numerous multicoloured LEDs on the front side show important status information for the power supply, PoE, network communication, radio signal strength and disturbances at a glance.
All interfaces support the Modbus TCP and RTU protocols for communication with serial end devices such as PLCs (programmable logical controllers), machines and sensors in factory or building automation. With support for dual SIM cards for redundancy or a load compensation function, top reliability for mobile phone connection is provided. Two aerial connections are located on the front side. The IGMG-P83244GC+-D4G passed the AT&T 4G LTE connectivity tests successfully. With its 64 GB capacity (optional up to 256 GB), the internal mSATA SSD memory provides good opportunities for local processing, storage and protocolling for comprehensive IoT data.
With Ignition on Board and Ignition Edge on Board, the IGMG-P83244GC+-D4G is ready for the use of the web-based Ignition platform. Ignition is an industrial application platform from Inductive Automation with numerous tools for creating solutions in the areas of SCADA, HMI (Human Machine Interface) and IIoT. Ignition is used in various automation areas worldwide. Ignition's advantage vis-à-vis locally installed software is that this platform is open, standard-based, scalable, can be extended and is future-proof. Data communication is possible with various systems, enabling the merging of data and its provision to everybody who needs it.
Depending on the use requirements, Ignition and Ignition Edge can simply be activated via the gateway interface. The PostgreSQL database which is already integrated for data recording and storage is already connected to the Integration software by default. Users need not deal with the installation and configuration of additional software as the gateway is immediately ready for use. Here, both Ignition versions run by default in test mode, meaning that a new user can easily become acquainted with and test it before it is used in a live system.
The protocols supported include MQTT, CoAP and Modbus TCP/RTU. Event warnings can be output by E-mail, SNMP trap, Syslog or relay output. The development tool Node RED for dashboard prototyping is also on-board. The manufacturer ORing, a specialist for industrial network solutions, provides the software Open Gateway which as a browser-based editor simplifies the easy and user-friendly configuration of the controller as an intermediary between Modbus field devices and MQTT/CoAP/LWM2M servers.
With its comprehensive hardware and software features, the IGMG-P83244GC+-D4G is a high-performance, all-in-one gateway, in particular for edge-to-cloud solutions in the IIoT.