IGPMC-111GP: PoE-Gigabit media converter with industrial quality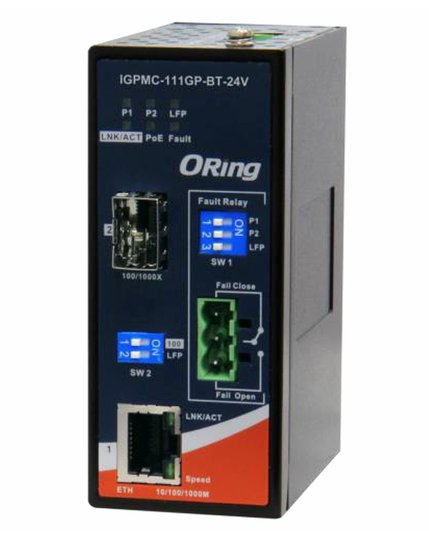 The IGPMC-111GP, now newly available from the German distributor Acceed, is a compact gigabit media converter suitable for top-hat rail assembly which meets high industrial demands regarding robustness and secure use. The compact IGPMC-111GP has respectively one RJ-45 interface 10/100/1000Base-T (X) with PoE up to 30 watts and an SFP (small form factor pluggable) socket for optical cable connection. The admissible ambient temperature for operation is specified with -40 to +75 °C. Assembly sets for top-hat rail and wall assembly are included in the scope of delivery, SFP modules are available optionally.
Media converters are always used in the data network when individual network segments use different transfer media, for example twisted-pair cable (TP) and fibre optic cable (LWL). The transferred data must then physically be move from one medium to the other. Fibre optic cable media converters such as the new IGPMC-111GP from Acceed enable the achievement of extreme enhancement of the reach of a network. The typical maximum reach of 100 metres for a TP cable can be extended to up to 100 km with the conversion to fibre optic cable without greater effort and without additional amplification. It is easy to reach redundancy via ring guides.
The IGPMC-111GP-BT is a really cost-efficient solution as a converter between copper cable and fibre optic cable. The massive increase of the network reach via fibre optic cables saves the use of complex and expensive alternatives such as repeaters or relay stations, for example parallel to transport routes or supply networks. Thanks to the automatic MDI/MDI-X detection, grid connection is unproblematic, crossover cables are not required. LFP (link fault pass-through) is also supported. If the function is activated using DIP switches, the device forces deactivation of the connection when one connection side fails. Sent data packages no longer become redundant and the application software is thus provided with the possibility to react to the situation. Moreover, several LEDs at the front inform the current operating status, e.g. transfer parameters or faults.
With its stable metal casing, the wide temperature range from -40 to +75 °C during operation and two parallel inputs for the power supply from 12 to 57 V DC, the IGPMC-111GP demonstrates its ability for new areas of use, for example in industry.