MCM-204: Autonomous DAQ computer for edge computing tasks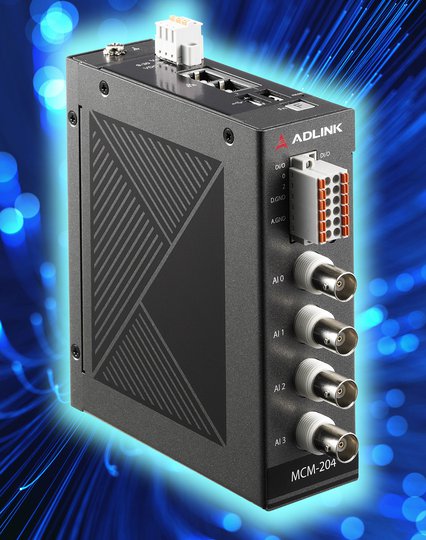 Data recording, abbreviated as DAQ, or the recording of analogue signals and their conversion to digital measurement data for further processing with software is one of the fundamental prerequisites for efficient automation and intelligent processes in Smart factory scenarios. The new MCM-204 is a highly compact, autonomous DAQ computer with four high-resolution 24 bit analogue inputs and dedicated digital outputs which, for example, can immediately be used for recording and analysing vibration signals.
Data recording in Smart manufacturing environments is used for identifying and collecting important information, which is also necessary as a basis for management and controlling, energy-efficient use and the anticipatory servicing of automated systems. The condition and performance data for individual components for this must be recorded as signals and communicated digitally to the control system or to further autonomous devices. Recording and digitalisation either takes place via several DAQ plug-in cards in larger computer architectures or more decentralised with autonomous DAQ computers in the vicinity of the signal transmitters (keyword: edge computing) The direct recording of vibrations is a typical application in order to identify the formation of bearing defects in good time and therefore warn against possible subsequent damages.
The hardly hand-sized MCM-204 in full-aluminium casing enables 24/7 data recording of sensors with a high degree of precision and a fast scanning rate. The fanless all-in-one computer can be used immediately without an additional host computer and be integrated in existing networks via the two gigabit Ethernet interfaces. The 24 bit sigma-delta converter supports anti-aliasing filtering, suppression of modulation and signal noise and provides a useful signal below the Nyquist rate, via which raw signals can be processed highly dynamically, for example for monitoring tasks. The integrated web console makes configuration without additional software possible, thus also enabling the import of application-specific filter algorithms. The MCM-204 can be ideally applied as an independent measurement system at remote field locations. The compact digital data generated via filtering and conversion can be forwarded to a central location and protocolled, visualised and further processed there.
The embedded PC is driven by the ARM Cortex-A9 with 1.0 GHz. Up to four 24-bit channels, each with 128 kS/s sampling rate, are available for simultaneous sensor signal recording. The sampling rate can be adapted to the respective requirements with several levels from 1 kS/s to 128 kS/s. Data communication takes place via two GbE interfaces or an optional WLAN module in the USB sockets. A digital temperature sensor (-50 to +150 °C) with 3m connection cable is already included in the scope of delivery.
With its very compact dimensions of 127 x 111 x 40 mm, the aluminium casing is also suitable for top-hat rail assembly. The admissible ambient temperature for operation is defined with 0 to 50 °C. Further technical details and information regarding application options are available directly from the German distributor Acceed.