NEON-2000-JT2: All-in-one camera system with Jetson-TX2 for edge computing applications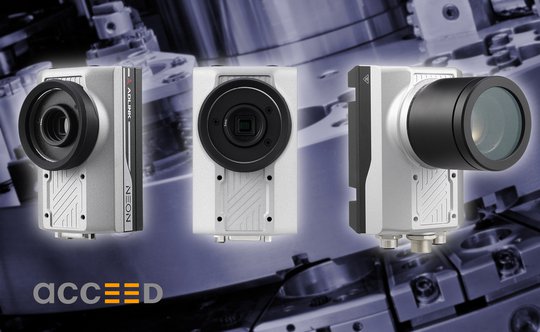 Vision systems provide the basis for efficiency, productivity and quality in virtually all areas of automation. The manufacturer Adlink, specialised in edge computing, sealed its collaboration with Nvidia as a Jetson Preferred Partner last year and has developed several specialised controllers and systems with high processing power for AI applications and machine learning since then. Now, the all-in-one camera system NEON-2000-JT2, consisting of a high-resolution Smart camera and the Jetson TX2 module from Nvidia in its core have been added to the programme. The pre-installed software enables short development times and fast integration into machine vision and AI applications.
The compact NEON-2000-JT2 camera system is available with various image sensors with a resolution of up to 2592 x 1944 pixels (5 megapixels). The C mount connection is suitable for all common lenses. Protective category IP67 is specified for the compact casing with its dimensions of 124 x 78 x 67 mm and a weight of only 700 g. The all-in-one system allows comfortable installation with just a little wiring work and fast use thanks to pre-installed software.
Two optionally pre-configured kits simplify the fast use of the NEON-2000-JT2. The lite kit incorporates the camera itself, a USB hub / type C adapter and a type C USB cable. It is suitable for applications for which no external I/O or device controller is required. In addition to the lite kit components, the starter kit also includes a lens, an I/O expansion board and an I/O cable and is suitable for proof of concept applications, for example.
The Jetson TX module responsible for the calculations provides top processor power with simultaneous energy efficiency thanks to the 64-bit quad-core CPU ARM Cortex-A57 and the integrated 256 CUDA cores graphics processor (GPU) with Pascal architecture. Combined with 8 GB LPDDR4 memory, therefore, in excess of one TeraFLOPs' processor power can be achieved with a power consumption of under 7.5 W. Therefore, the camera system is prepared for the demanding requirements as, for example, formulated for error inspection or object classification in manufacturing environments. The NEON-2000-JT2 is used successfully, for example, for the optically highly demanding inspection of contact lenses. For even higher processor power up to 21 TOPS (trillion INT8 operations per second) the camera is also available with a Xavier NX module.
In addition to the gigabit Ethernet interface, a comfortable type C USB port with USB-3 support is available. This enables voltage feed via an external power supply or the USB port. All connections are designed as robust and safe M12 plug-in connectors. Moreover, future models which have already been developed have a video output designed as a display port which supports an image resolution of 1920 x 1080 at 30 fps (frames per second).
The NEON-2000-JT2 camera system has been developed for industrial use under demanding conditions. The operating system installed is Ubuntu 18.04 L4T (Linux for Tegra), together with the AI software Jetpack 4.3 from Nvidia, Basler Pylon 5.2.0.13457 and sample code for machine vision. Acceed supports the customers' selection of the camera model and accessories options and provides ready-customised and tested devices for fast readiness for use.