NRU-120S: Compact AI platform for mobile use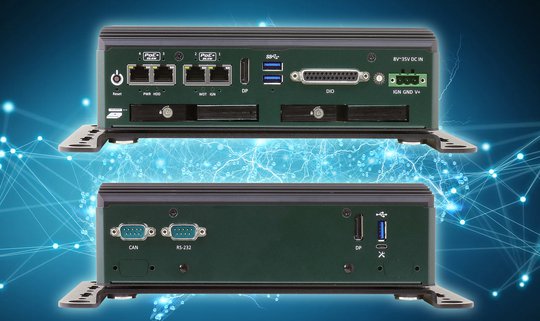 Applications based on innovative AI technology are becoming increasingly popular and finding their way into numerous industrial areas. With the AI platform NRU-120S and integrated Jetson AGX Xavier module from Nvidia, the German distributor Acceed offers a cost-efficient solution for future AI edge computing applications. The compact device has a robust, fanless design in accordance with industrial requirements and convinces with a mere 30 W energy consumption with the same GPU performance offered my a mainstream GPU PC with 120 W. At the same time, the NRU-120S is low-service and equipped with the essential interfaces.
With the NRU-120S, an extremely energy-efficient, fanless edge AI inference platform was put on the market. With its highly compact dimensions of 230 (W) x 173 (D) x 66 (H) mm, the controller has four PoE+ interfaces, two 2.5" hard drive slots and further I/O connections. The four gigabit network connections with PoE can supply connected PD devices (powered devices, e.g. IP cameras) an output of 25.5 W. For data saving, the NRU-120S, in addition to the eMMC, is equipped with 32 GB on the Xavier module with an M.2 base (2280 NVM Express) for reading and writing SSDs fast and is equipped with two hard drive slots. Both hot swap capable 2.5 inch slots for SSD or HDD are comfortably accessible from the front and can therefore be exchanged easily and fast.
The internal device mini PCIe bases can, for example, hold a Wi-Fi or 4G module. The PPS (pulses per second) input enables cross-platform synchronisation based on the joint time reference provided by the GPS module. Despite its significant inference output, the NRU-120S works highly energy efficiently with electricity consumption of a mere 30 W.
The new NRU-120S is integrated in the AI-based video analysis solutions offered by Acceed, which are also used for video recordings, image analyses and real time inference. Here, the centrepiece is the Jetson AGX Xavier from Nvidia with an 8 core ARM CPU and a Volta graphics processor, 512 CUDA cores and 64 tensor cores, which provide 11 TFLOPS FP16 or 22 TOPS INT8 processor power.
Its efficient performance design and compact form make the NRU-120S the perfect edge AI solution, also for mobile applications. With innovative shock absorption, trigger control and wide power supply range (8 to 35 VDC), the NRU-120S can be used ideally as a video inference platform: for example for autonomous machines, logistics, quality assurance, preventive maintenance or intelligent smart city applications. The admissible ambient temperature for operation is specified with -25 to +70 °C (30 W TDP).
Product Manager Kaichu Wu describes further advantages: "With the support of industrial GigE cameras, the NRU-120S is recommended for deep learning image processing in the areas of inspection, intelligent agriculture and warehouse automation. With its robust and electricity-saving design, last but not least the NRU-120S enables edge computing in harsh environments from dust-ridden factories to use on the road with substantial temperature fluctuation between daytime and nighttime."