NRU-51V+: 4-camera controller drives autonomous systems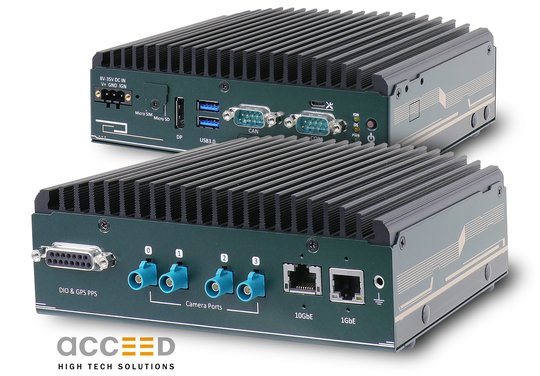 Above-all, the sensor system is extremely important for autonomous robots, vehicles, ground conveyors and similar autonomously acting machines. What is meant is data acquisition with cameras or other sensors and its processing as fast as possible in order to execute the desired programmed functions and actions. The German distributor Acceed has now announced the new series of compact industrial AI platforms with the name NRU-51V+ for the near future. The robust and fanless controllers have four FAKRA-Z ports for GMSL2 cameras and are precisely tailored to these tasks with their equipment with type Jetson Orin or Xavier Nvidia high-performance modules.
With the differently equipped models from the new NRU-51V+ series, an extremely energy-efficient, fanless AI inference platform will now be launched on the market. The controller in the robust aluminium chassis with its highly compact dimensions of 173 (W) x 144 (D) x 60 (H) mm has four FAKRA-Z ports for GMSL2 cameras, which each support a resolution of 1920 x 1080 pixels at 30 FPS. Optionally, the Jetson Orin NX or the Xavier NX processor von Nvidia is used. Respectively a 10GbE port and a 1GbE port with screwed connection are available. The internal device mini PCIe socket can also be used for a WiFi or 4G/5G module or various storage options.
GMSL (Gigabit Multimedia Serial Link) is an asymmetrical full duplex connection, which was primarily developed for video transfer in vehicles. Electricity, bidirectional control data, Ethernet, bidirectional audio and several unidirectional video streams pass through one single line simultaneously. Video transfer can take place unprotected or encoded with HDCP. GMSL, for example, is used for infotainment systems and in driver assistance systems (ADAS) in vehicles. The full-duplex character of the connection enables simultaneous video data transfer, touch operation and haptic information, audio and display control. GMSL connections are used in ADAS systems in order to link cameras with electronic control devices. Application examples include rear view cameras, surround view cameras, cameras for dead angles, proactive cameras and cameras for monitoring drivers. The GMSL connection provides electricity for the camera, camera control error notification and video transfer. ADAS systems are valid as safety-critical systems and normally have an ASIL (Automotive Safety Integrity Level) categorisation according to ISO 26262. GMSL devices have integrated error recognition and fault notification functions which enable the development of such ASIL-evaluated systems.
Thanks to the high efficiency of the Nvidia modules, the NRU-51V+ controllers supply an inference output of 100 TOPS with electricity consumption of only 25 W. The raw camera images can be transferred to a different GPU server via the 10GbE port or used directly for object or ROI recognition in real time thanks to the high TOPS output. The video codec can be used for teleoperation applications to encode the image flows from four GMSL2 cameras in real time and transfer the live images with minimal latency to an operator via 5G communication.
The further equipment features of the new NRU-51V+ also include several USB ports, a display port, a serial RS interface, a CAN bus port, insulated IO interfaces and a plug-in for microSD cards.
As an independent distributor, Acceed can also assume customer-specific equipping of larger quantities.