Nuvo-7166GC: Cool calculating GPU computing for AI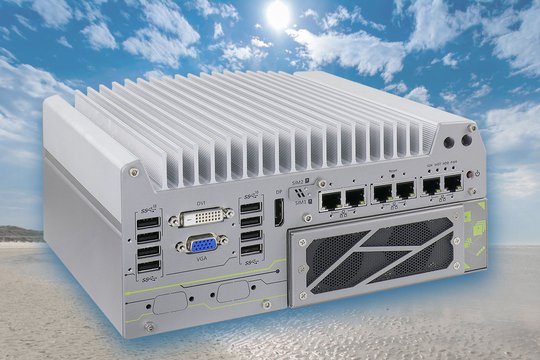 The patented cassette and air tunnel design of the new industrial GPU computer Nuvo-7166GC from Acceed promises system operation at ambient temperatures of up to 60°C at a constant 100% GPU load. Two PCIe slots can respectively record one Nvidia Tesla T4 for the fast calculation of interferences with which the platform can achieve up to 8.1 TFLOPS in the FP32 benchmark and 130 TOPs in the INT8 benchmark for real time calculations based on a trained neuronal network model. In interplay with the available 8th and 9th generation Intel processors (6/8 cores) and 64 GB DDR4-2666 RAM, the Nuvo-7166GC presents itself as a robust industrial AI inference platform with a specially well-balanced relationship between the CPU, GPU and memory performance.
Inference gains special significance within the surroundings of industrial artificial intelligence (AI), machine learning or deep learning. Whilst the general term of inference describes a complex conclusion in linguistics and logic, it concerns applications which are trained for specific tasks using neuronal networks in AI. Here, basic learning is not important, but facts or insights derived based on existing data. So, it concerns the practical application in automated systems, for example for predictive machine maintenance. In this case, the inference system applies existing data from the computer and software to a current situation in order to be able to react autonomously. A high-performance system can therefore monitor a large number of machines simultaneously and without human operation. Other, very varied applications include autonomous driving, the evaluation of weather data or inferring user behaviour for marketing purposes.
The stronger the hardware in such a system is and the better it is equipped for precisely these calculations, the more successful its use. And the strengths of the new GPU controller Nuvo-7166-GC from Acceed can be found precisely here. Virtually all the compact GPU computer's core components can be compiled customer-specifically. Ready assembly, also of larger unit quantities, is taken over by Acceed here. In addition to the selection of several 8th and 9th generation Intel processors and the equipping of the two PCIe slots with one or two type Nvidia Tesla T4 graphics cards with which the platform can achieve up to 8.1 FLOPS (1012 floating point operations per second) in the FP32 benchmark and 130 TOPs in the INT8 benchmark. The patented cooling management in the full-metal housing consisting of a robust aluminium alloy is designed for the high heat loads of the high-end graphics processor.
Six gigabit Ethernet interfaces of which optionally three can have PoE and an overall output of 100 W ensure sufficient bandwidth for data exchange. Respectively four USB- 3.1 Gen 2 connections (10 Gbps) and 3.1 Gen 1 (5 Gbps) as well as several serial interfaces support fast data communication with further peripheral devices. Two internal SATA ports (2.5" SSD/HDD) with RAID support are available for hard drives, moreover an M.2 slot for NVMe-SSD or Intel Optane memory.
Application-specific I/O functions can be implemented as good value extensions with optional Mezzanine cards (MezIO modules with serial interfaces, digital I/O interfaces, LVDS output, CAN bus, DTIO or memory extension). In addition to the common DVI-D and VGA graphics outputs, a universal port exists, supporting 4K2K resolutions up to 4096 × 2304 pixels.
The specialised GPU output, the heat transfer system suitable for industrial requirements and the exceptional multitude of functions make the Nuvo-7166GC a first choice inference platform for industrial AI applications, for example in the areas of machine monitoring, manufacturing control, logistics, image processing or autonomous driving.