Nuvo 7501: Cost-efficient industry PC with convincing performance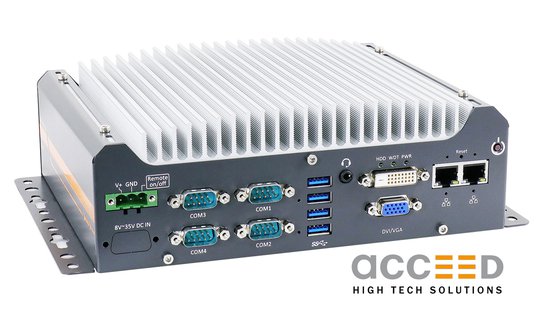 The new industry PC Nuvo-7501 from Acceed demonstrates strong performance in a small space. The latest fanless controller development works with 8th and 9th generation Intel processors and achieves a 50 percent performance increase vis-à-vis its predecessors. The casing and equipment are attuned to industrial requirements, also via the temperature range from -25 to +60 °C at full CPU load. With its reduction to the most important interfaces GbE (2x), USB 3.1 (4x) and COM (4x) as well as various hard drive options (SSD, HDD, SATA), the new controller achieves a convincing cost-performance ratio.
Despite its compact dimensions of only 255 x 173 x 76 mm, the new industrial Box PC Nuvo-7501 is a genuine power package and meets all the requirements of a fanless embedded solution in the high-end area. Equipped with 8th and 9th generation Intel processors and the H310 chipset, the robust controller provides all the features required for cost-efficient industrial use. These include two GbE interfaces for network connection, four fast USB 3.1 interfaces (5 Gbps) for data transfer and four serial COM ports, for example for controller tasks. In addition to the M.2 SATA socket, an internal SATA connection for 3.5" HDD or 2.5" HDD/SSD is provided. An internal Mini PCIe socket and a further M.2 socket (2242 B-Key) with an integrated SIM slot provide the opportunity to equip it individually with specialised functional modules.
All the external interfaces are accessible from the front side. Two graphics connections, VGA and DVI-D, each supporting a resolution of 1920 x 1200 pixels, as well as respectively one standard socket for the microphone and loudspeaker, round off the equipment.
The design of the fanless full metal housing consisting of a resistant aluminium alloy is designed to meet the high requirements of the industrial surroundings (manufacturing, logistics, automation and building management). The isolated digital and serial interfaces for the Nuvo-7505D variant can protect efficiently against ground loops in harsh environments. Acceed offers full ready assembly as a special service in accordance with customer wishes, also in high quantities of up to several hundred systems per week.