Nuvo-8208GC: Dual GPU platform for high-end applications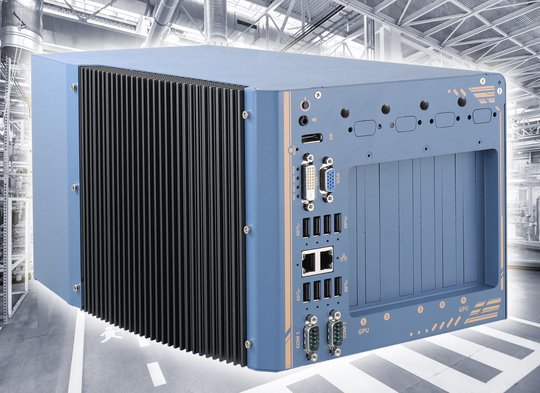 When developing the new NUVO-8208GC computer platform, three priorities were set: top equipment flexibility with a focus on support by two 250W NVIDIA graphics cards, safe in-vehicle operation and robust ergonomic design in accordance with industrial standards. The high-end computer, which is now available from Acceed with several design combinations, is the first industrial dual GPU platform worldwide which has been specifically developed for supporting two high-end graphics cards with 250W, thus providing the gigantic GPU performance of up to 28 TeraFLOPS (benchmarking with FP32). Possible areas of use include GPU-accelerated simulation applications, virtual reality, optical in-line manufacturing inspection or autonomous driving.
As opposed to the CPU (Central Processing Unit), the GPU (Graphics Processing Unit) is a specialised and optimised processor core for calculating graphics. In interplay with the CUDA programming technique developed by NVIDIA, which enables working off parts of programs via the graphics processor (GPU), significantly increased performance can be achieved for program sequences which can be parallelized to a high degree. The parallelizable tasks not only include image analyses, but also weather calculations, finite elements or matrix operations. At the same time, the CPU is relieved and is available for other tasks. Industrial applications profit in the area of intelligent video data evaluation, for example for mobile robot, vehicle and transport system behaviour control, but also for process analysis and complex simulation.
The new AI computer platform Nuvo-8208GC supports two graphics controllers from NVIDIA working in parallel, each with up to 250W TDP. Here, the patented thermo design with its generously dimensioned fresh air intake via the controlled ventilator ensures effective dissipation of the heat generated by the GPU, enabling reliable operation with 100% load at ambient temperatures from -25 up to +60°C. The shock absorption, which is also patented, ensures operation up to 3 Grms, 5-500 Hz, 3 axles (with GPU, fan and HDD) in accordance with IEC60068-2-64.
The Nuvo-8208GC works optionally with various type Xeon processors from Intel (E-21xx and E-22xx) or various 8th and 9th generation Intel-i7/i5/i3 processors as well as type DDR4 128GB storage. Numerous interfaces and I/O functions (2 x GbE, 8 x USB 3.1, 2 serial RS 232/422/485 interfaces) enable fast data exchange with external devices and via the network. Functional extensions are comfortably made using the PCIe slots (respectively two x16, x8 and one x4) and two mini PCIe slots can also be provided. An M.2 socket, which also supports dual SIM operation, is available for optional (3G/4G) mobile communication.
Two 2.5" sized hot-swap capable slots for SSD or HDD hard drives are available as flexible storage options with RAID 0/1 support. Three native graphics connections (display port with a resolution of 4096 x 2304, DVI-D and VGA) round-off the basic equipment. Supply voltage via the pluggable terminal block is permissible within the wide range of 8 to 35 VDC for in-vehicle operation.
In sum, the new Nuvo-8208-GC from Acceed is a robust GPU computer platform for industrial application with wide-ranging I/O functions and developed for innovative applications such as machine learning, autonomous driving, face recognition or image processing. Customer-specific components such as the CPU, RAM, SSD, HDD or PCIe cards for individual tasks can be procured, installed and tested by Acceed if desired in order to support immediate readiness for use.