Nuvo-9000: Industrial Box PC series with 6 x GbE and MezIO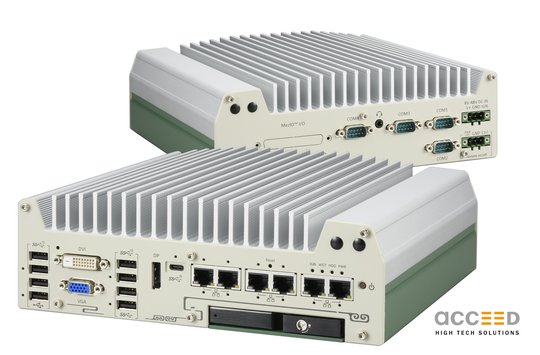 Acceed has incorporated a new series of high-performance industrial Box PCs for flexibly configurable application in Automation, Safety Engineering, Plant Control and Production Technology in its portfolio. The Nuvo-9000 series of industrial Box PCs stands for a new generation of high-performance one-for-all platforms. Six 12th generation Intel processors (Alder Lake Core) are available for selection of the processor power. The large number of possible interfaces, including up to six gigabit Ethernet ports with PoE, several USB interfaces with 3.2 to 20 Gbps, the MezIO interface, the PCI/PCIe cassette and the M.2 socket for connecting an SSD convince. The area of use is clearly adjusted to industrial requirements, also via the admissible operation in the extended temperature range from -25 to +70 °C at full CPU load.
The controllers from the new Nuvo-9000 series are universally applicable power packages and, with their individual selection of performance features (CPU, interfaces, patented expansion cassette, project-specific MezIO modules), their versatility can hardly be surpassed. As a basis, various Intel-processors (35/65W TDP) i9, i7, i5, i3, Pentium or Celeron can be selected. The working memory can be extended up to 64 GB (DDR5 SDRAM), 2 internal SATA ports (2.5" SSD/HDD) with RAID support are available for hard drives, moreover an M.2 slot for NVMe-SSD.
The fanless full metal housing consisting of resistant aluminium alloy is designed to meet the high operational safety requirements in Production, Automation and Building Technology. In addition to stationary applications, operation in vehicles is also supported with high vibration and impact resistance.
Ethernet interfaces with up to six gigabits ensure a broad bandwidth for data transfer, for example in machine vision applications. Several USB connections, 3.2 to Gen 2 (20 Gbps), as well as wide range of serial interfaces are available for fast and standardised data communication with peripheral devices.
Application-specific I/O functions can be implemented as individual extensions with good value Mezzanine cards (MezIO modules with serial interfaces, digital I/O interfaces, LVDS output, CAN bus, DTIO or memory extension). The patented expansion cassette, which can optionally be equipped with PCI or PCIe cards, offers additional expansion options. As a special service, Acceed offers full ready assembly with function testing in accordance with customer wishes, also in high quantities.
In addition to the common DVI-D and VGA graphics outputs, a universal display port exists, supporting 4K2K resolutions up to 4096 × 2304 pixels. The accessories available include assembly and fan kits, moreover matching power supply units with different performance levels.
Power and robustness (in particular the immunity against ESD and voltage peaks emphasized by the manufacturer) and the exceptional functional versatility make the new Nuvo-9000 series Box PCs a universal platform for demanding applications, for example in the areas of automation, manufacturing, processing centres, bottling plants, packaging, production control, logistics, image processing, robot control, monitoring and building automation.