PB-9250J: SuperCap is the better UPS solution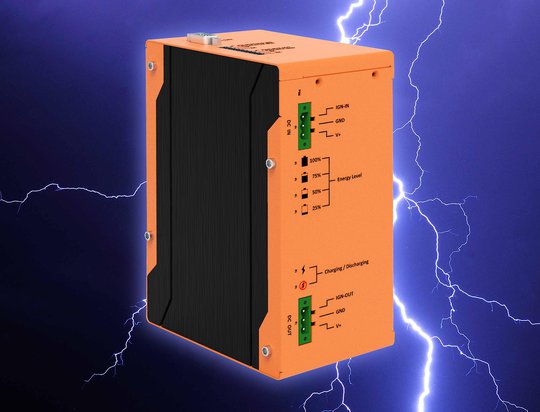 Avoid power supply failures with super capacitors (SuperCaps) providing longer-term and better solutions for your controller and Box PC power safety.
Power supply failure for machine controls and IT infrastructures was mostly faced with battery-supported UPS systems to-date. So-called super capacitors, abbreviated as SuperCaps, can provide a longer-term and therefore better value solution. Acceed presents two models specifically for use with controllers and Box PCs.
Spontaneous failure of the power supply occurs repeatedly within industrial surroundings, whether due to system-wide emergency off switching, machine damages or overloads on the power grid. In order to counteract this expectable failure, the use of UPS devices (UPS = uninterrupted power supply) is a standard measure. The major purpose for the short-term maintenance of the power supply is normally not the continuation of production, but the controlled shutdown and switching off of controllers. It hinders that important data and information, for example regarding the switching status, positions or hazardous situations, is lost. Many systems and devices are not able to reboot after restoration of the power supply without this information. The brief failure can therefore result in a long-lasting standstill. The possible effects are even more serious at computing centres.
For many years, the decisive element for UPS systems was the battery, normally as one or several lead rechargeable batteries which can fill entire rooms in large quantities at computing centres. Fast availability, easy scaling and high modularisation substantiated their prevalence. However, batteries are not really as unproblematic as they appear to be at an initial glance. Their electrochemical function makes them susceptible to errors and demanding with regard to operating conditions. Their optimum service life, for example, is only achieved within a narrow environmental temperature range. Additionally, they are subject to the self-discharge effect. In order to retain their voltage, they must be charged regularly. During the charging process itself, water is decomposed in the electrolyte. Oxygen and hydrogen are generated, which develop an explosive mixture together. Expensive, service-free batteries are sealed, do not allow any gas to escape and need not be filled with water. Nonetheless, the batteries are not everlasting, ideally their service life is five years, practically viewed somewhat shorter. These are just some of the factors which make the use of batteries work-intense and expensive.
An already proven technique which is no longer a genuine novum and has already proven itself in practice provides the alternative: Super capacitors, also referred to as SuperCaps , are the cost-efficient and service-friendly alternative to the traditional battery UPS. SuperCaps contribute to cost reduction, increase energy efficiency and are - and this is not very unimportant - generally more environmentally friendly than lead acid batteries.
The SuperCap UPS solutions PB-9250J-SA and PB-2500J offered by the German distributor Acceed are service-free, temperature-resistant and achieve a service life of at least 10 years according to the manufacturer.
Model PB-9250J-SA is a compact stand-alone system, consisting of eight 370F/3.0V super capacitors with a storage performance of 9250Ws. Thanks to the patented Neousys energy management technology, this model can reliably provide an output of 18W to the back-end system and manage automatic switching on and off without requiring the installation of additional drivers or software. In addition to the UPS mode, the system provides two ignition control modes for in-vehicle use. Therefore, the PB-9250J-SA can, in addition to its use with standard Box PCs, also be used with vehicle controllers for which controlled behaviour must in particularly be guaranteed when switching the ignition on and off.
In addition to this standalone version, Acceed offers the smaller PB-2500J model, designed as a PCIe module. This plug and play solution has a capacity of 2500 Ws and was specifically developed for direct installation in smaller controllers and Box Pcs.
In order to ensure that a SuperCap UPS functions reliably, precise charging and discharging control, active load distribution and DC/DC regulation are required. In order to make optimum use of the capacitor energy and simultaneously to ensure that the system is switched off safely in case of electricity failure, the UPS' from Acceed utilise patented CAP energy management. The integrated microcontroller monitors the system's energy consumption, can extend the backup period in case of unplanned electrical failure and initiate a correct system shutdown procedure in order to maintain data integrity.