POC-40: For robust edge computing within tight space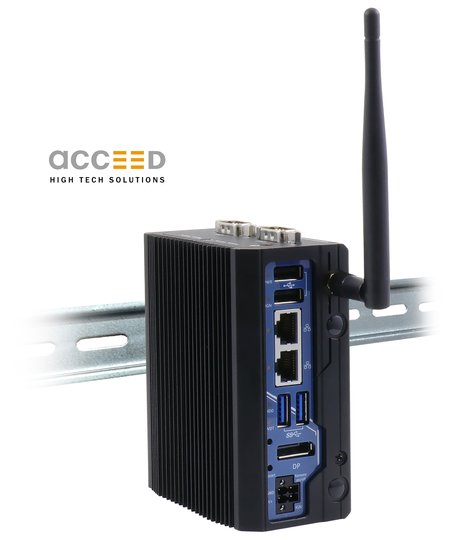 High performance, easy interface access, flexible data communication and a compact construction at the same time: these are not really easy requirements to be fulfilled by embedded controllers for demanding edge computing. The German distributor Acceed has the answer to such inquiries in its portfolio which is specialised in industrial applications. One example of this is the ultra-compact and fanless embedded PC POC-40 with its 10 nm Atom processor from the Intel Elkhart-Lake x6211E series. With its extremely compact construction, the controller has two gigabit network connections, four USB interfaces, a display port as well as several serial interfaces. Radio modules for 4G, 5G, Wi-Fi 5 and Wi-Fi 6, which enable real time data transfer for mobile and gateway applications, can be used via M.2 sockets. The POC-40 shows its strengths primarily in space-critical situations associated with decentral automation and data communication tasks.
With its extremely low dimensions of only 52 x 89 x 112 mm (L x B x H) – roughly equivalent to the size of a 2.5-inch SSD drive – the embedded controller series with the name POC-40 is well-suited for installation in restricted spaces. The POC-40 was primarily developed as a mobile gateway with a view to applications such as recording operating data and edge computing in harsh environments.
Compared with its predecessor, the Gemini Lake, the latest generation Elkhart Lake dual core 10 nm processor technology provides improvement with a factor of 1.8 for single-thread performance and 1.5 for multi-thread performance. However, the series not only provides a performance boost, but is also even more compact: half the size and double the performance.
All POC-40 models are designed for top-hat rail assembly, thus enabling easy access to the I/O ports, including two gigabit Ethernet, four USB (2.0/3.1 Gen1), four COM and optional isolated DIO ports for data exchange and control. Radio communication (4G, 5G, Wi-Fi 5, Wi-Fi 6) can be upgraded via M.2 sockets at any time later or when ordering. Acceed promises delivery of equipped, tested customer-specific configurations with a rollout exceeding 250 units per week.
As a fanless computer suitable for industrial use, the POC-40 supports operation within a wide temperature range of -25 to +70 °C. Power supply for wall or top-hat rail assembly is possible within the range of 12 to 20 V. Acceed also supplies the corresponding power supply units. The POC-40 is certified for operation in high vibration environments in accordance with the US Military Standard (MIL-STD-810G/Method 514.6).
Product Manager Ariel Chen (Neousys) summarises: "From scratch, the POC-40 is a harmonious system which is easy to implement and can be easily provided in industrial environments for edge or fog computing or decentral data recording and processing."