POC-400: Top-hat rail PC with Elkhart Lake platform for increased functional security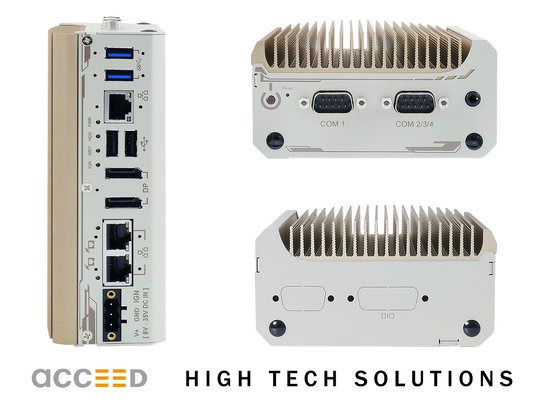 The ultra-compact, fanless top-hat rail computer POC-400, now introduced by the German distributor Acceed, provides increased functional security. Its core element is the new 10 nm "Elkhart Lake" Atom x6425E processor from Intel. Despite its highly compact construction, the embedded controller has three 2.5G base-T Ethernet ports, of which two have PoE, four USB interfaces, two display ports and a configurable serial interface. The MezIO slot with high-speed interfaces, for which an array of special modules are available for the integration of application-orientated I/O functions, is a highlight. With these, it becomes easy to realise made-to-measure embedded applications affordably, which is ideal for space-critical applications in building automation or image processing within industrial surroundings.
Industrial systems normally work with continuous operation, which requires a particularly high degree of reliability and availability. Thanks to the functions for functional security integrated in the chip, the Atom processors from Intel for industrial solutions meet the functional security requirements according to IEC 61508 and ISO 13849.
With the new 10 nm "Elkhart Lake" Atom x6425E processor from Intel, the POC-400 provides a factor 1.7 CPU performance increase and a factor 2.0 GPU performance increase compared to previous models. Its ultra-compact construction with dimensions of 56 x 108 x 153 mm make the POC-400 the perfect choice when high processing power is required within limited space.
The POC-400 is prepared for top-hat rail assembly and offers comfortable access to the interfaces. The PoE+ ports are, for example, comfortable for the fast installation of video cameras, where further wiring for the power supply is then no longer needed. The equipment features include two 4K display ports, respectively two USB 3.1 and 2.0 interfaces as well as COM connections for normal industry applications.
The possible function extensions via the new MezIO slot include insulated DIO, RS-232/422/485, USB 3.1 (Gen1), trigger control, memory and 4G/5G modules. Moreover, the POC-400 has an internal M.2 E key socket for a Google TPU or Movidius VPU module from Intel via which the controller can be reequipped as a simple AI edge inference platform.
"In modern works with Smart Factory and automation, systems are more complex and only have very restricted for installation. When developing the POC-400, we wanted to keep the construction as small as possible, doing justice to current market trends. Simultaneously, as the responsible Product Manager Dennis Chen explains, this is the introduction of the new 10 nm "Elkhart Lake" processor for industrial applications".