POC-551VTC: Powerful Box PC brings the network into the vehicle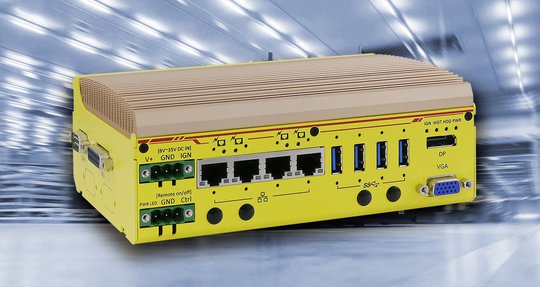 Computers in vehicles must be particularly robust, vibration-free and impact-resistant and designed for direct connection to the vehicle's battery. The new in-vehicle Box PC POC-551VTC from Acceed moreover convinces with hitherto unachieved CPU output in this category and equipment ready for use such as four PoE ports with 25 watts' output, CAN bus integration and slots for up to four modules for mobile communication and WLAN.
The POC-551VTC is ultra-compact, fanless and equipped with a type Ryzen AMD V100 processor. The high-performance embedded CPU with four cores (V1605B) and 12 to 25W TDP replaces the Apollo Lake processors from the previous models. Protected by industrial full-metal casing for robust use, the controller is equipped with four GbE interfaces with PoE, which can be used ideally for connecting cameras which are installed in the vehicle. The insulated CAN bus, which is also integrated, simplifies all communication connections in the vehicle, saving time and cost-intense laying of additional delicate wiring harnesses.
In order to easily operate devices via the vehicle battery, a wide range for input voltage is important for use in vehicles. The POC-551VTC accepts 8 to 35V direct current. The power supply can be coupled with the ignition and can switch independently from this by setting delay times. The battery voltage is monitored simultaneously. The controller is approved for use in vehicles (ECE mark of conformity) and meets the requirements of the standards EN 55022 and EN 55024.
In addition to the four PoE gigabit interfaces, the POC-551VTC has four USB 3.0 connections and several configurable serial interfaces. Three Mini PCIe sockets and an M.2 socket, each with USIM support are available, in order to equip the controller with corresponding modules for communication via radio networks (4G, 3G, WLAN, GPS). The Mini PCIe sockets can alternatively or additionally be used for other cards and tasks. With this large number of fast interfaces and expansion options, it is possible to realise the most varied vehicle applications. The housing design which was specially developed for robust use in buses, trucks or rail vehicles ensures safe heat dissipation via the extensive aluminium comb and also enables the fanless computer to function stably, also in the very wide temperature range from -40 to +70 °C. For ambient temperatures below 0 °C or exceeding 60 °C, an HDD or SSD with a special operating temperature range is required, which is also available directly in various versions directly from Acceed.
Two of the serial interfaces, the audio connections, the I/O port for respectively four digital inputs and outputs and the CAN bus port are placed on the narrow sides of the very compact housing with its dimensions of 176 (W) x 116 (D) x 64 (H). In addition to the VGA socket (with a resolution of 1920 x 1200) and the display port (with a resolution of 4096 x 2160), the further serial interfaces, all the communication interfaces and the input for the power supply are located on the long side. The SIM card plug-in, also located on a narrow side, is easily accessible.
As matching accessories, mSATA SSDs with varying capacity and the pre-installed operating system Windows 10 IoT are available from Acceed, as are special power supplies and assembly kits. Moreover, as a special service, Acceed offers full ready assembly, also in larger quantities and provides fully equipped devices in accordance with customer specifications, ready for use.