RGS-R9004GP: Modular L3 switch with 10G ports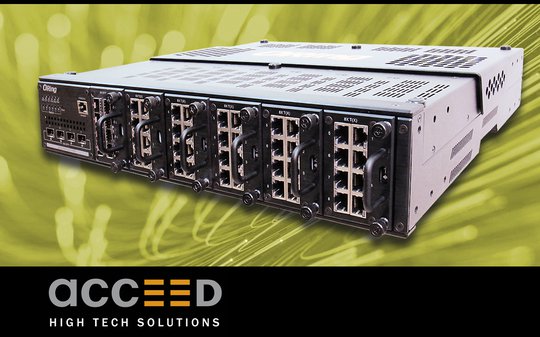 The new industrial switch RGS-R9004GP from Acceed offers up to 48 gigabit ports and a further four 10G SFP ports (SFP+). The switch is designed as a flexible, modular system for installation in IT switch cabinets. As a layer 3 switch, the RGS-R9004GP combines sophisticated routing and switching functions and is therefore ideally suited for networks where high performance and high data throughput are required.
The number of devices in networks and connected to the Internet is also still increasing rapidly within industry. The expansion of data traffic connected with this consequently creates the need for network switches with a higher port density and range. Moreover, customers require a higher degree of flexibility pertaining to provision in order to secure their investments in the long-term. The new industrial switch RGS-R9004GP from Acceed is designed to meet precisely these requirements. The switch scores with a large number of demanded features such as modularity, a thermally optimised design, various assembly options, layer 3 functions and last but not least a speed of 10 gigabits.
The RGS-R9004GP has six module slots for up to 48 gigabit copper or fibreglass connections as well as four fixed 10G, SFP+ format connections. The modules with different connections can be used dependent on the requirements and work environment, thus achieving the optimum bandwidth cost-efficiently. The high port density, which enables a switching structure of up to 176 Gbit/s, is ideal for comprehensive installations and simultaneously offers high-performance overall connectivity. The combination options consisting of copper and fibreglass cables support cost optimisation with distributed data communication in the core layer and secondary network structures.
As a layer 3 switch, the RGS-R9004GP can offer a higher security level and more efficient management. Data packages are forwarded dynamically to their target IP address-based, even if the network consists of different domains or VLANs. The RGS-R9004GP supports static and dynamic routing. This means that the IP addresses are either managed manually or the switch learns and updates the routes automatically. The switch communicates with other layer 3 switches or routers via the RIP routing protocol, a very common protocol, which automatically identifies the best routing path for guaranteeing fast provision of data within a very short time. Thanks to L3 support, the RGS-R9004GP can provide rapid forwarding via the hardware, improving network performance and resilience whilst simultaneously allowing flexible network design and better data traffic control.
The switch has a robust, fanless design for use in industrial environments and is approved for use at operating temperatures from 0 to 60 °C thanks to its excellent heat dissipation. Its power supply via two separate, integrated supply units with grid connection sockets from 100 to 240 VAC is redundant. Several redundancy protocols are available for the network. LEDs inform of the most important operating parameters at a glance. Overvoltage and reverse polarity protection goes without saying.
Acceed provides advice regarding the efficient use of this and other managed switches, in particular for industrial applications.