EOS-JNX: IoT AI controller not only for vision tasks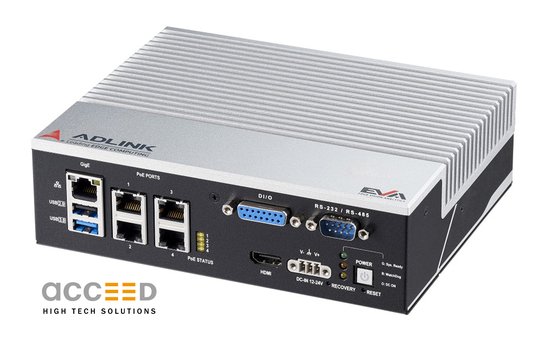 The newly available series EOS-JNX controllers from Adlink are equipped with artificial intelligence (AI) and designed for "on the edge" use (Edge Computing) as image processing systems. Moreover, with their high-performance graphics components they offer new automation options in the IoT, also based on comprehensive image data. In addition to testing tasks, this also incorporates security and monitoring applications. All series EOS-JNX models provide Power over Ethernet (PoE) for the supply to connected cameras or further devices within the network. This renders the laying of additional cables, which causes costs and not seldom further error sources, unnecessary.
Its integrated Jetson Xavier NX module from Nvidia distinguishes the EOS-JNX series from other box computers. This small-format System on Module (SoM) with up to 21 TOPS accelerated processing power enables the establishment of neuronal networks which process data from several high-resolution sensors parallel – a prerequisite for fully AI-based systems. The Jetson Xavier NX accelerates data processing in the manufacturer's own software by more than the tenfold of its successful predecessor's, the Jetson TX2.
Its comprehensive equipment with interfaces in its fanless casing ensures wide-ranging freedom with regard to data communication and supports field integration. The integrated Smart PoE function for remote control of the PoE power supply is intended to reduce maintenance requirements at locations which are difficult to access and also offers PoE power failure detection. Model EOS JNX-I is primarily designed as an AI PoE switch for connecting IP cameras in order to enable AI inferencing. Moreover, it provides an uplink port for connection with a network video recorder (NVR) for recording video streams, simplifying the refitting of existing monitoring systems. Model EOS JNX-G was developed for industrial AI applications in the area of machine vision and provides a dedicated bandwidth of 1 Gbit per channel. In particular, GigE camera interfaces are of decisive importance for production lines, but also for monitoring applications. The internal USB port can be used for a dongle in the casing, thus guaranteeing even better protection.