Artila Aport-213: serial-WiFi gateway in pocket size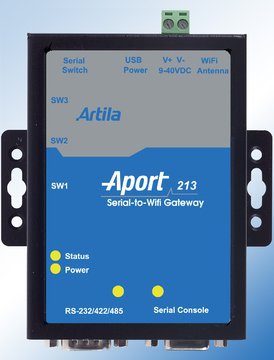 We recommend the Aport-213 from Artila for the transmission of serial data to WiFi, since it is one of the most compact industrial device servers available.
Serial data collected at a specific position in a plant or building often have to be routed via long data lines to a central control system. In this case, setting up a radio link would be the more elegant and efficient solution. Artila introduces the Aport-213, a new pocket-sized gateway specially developed for this purpose.
The networking of sensors and other data acquisition units under the keywords M2M, ZigBee or Industry 4.0 is the core task of communication between many devices within a plant with or without central control. In the Internet of Things (IoT) a large number of specialized units such as sensors, actuators and controllers are used, in building management as well as in industrial plants, large-scale warehouses or residential units. The first step is the transmission of separately collected serial data from sensors and other units. At this point, the new Aport-213 is used as a serial WiFi gateway.
The Aport-213 has a serial interface that is designed as a conventional DB9 connection. The desired protocol (RS-232 / 422 / 485) can be set via DIP switches. The gateway transparently transmits the fed-in data to the network, where it can be used and processed by existing software.
Supported protocols include TCP, UDP, ICMP, IGMP, IPv4, DHCP, ARP, DNS, SMTP and SNTP. Configuration is possible via web browser or serial console, a Windows utility is available free of charge.
During operation, a wide temperature range from 0 to 70 °C is permissible, which also supports the installation of the small device in housings and channels. Intelligent power management minimizes power consumption to 180 mA (at 12 VDC) during data transfer and further reduces power consumption to a minimum during periods of inactivity. This makes the Aport-213 particularly suitable for use with environmental monitoring sensors, as in greenhouses, access control, level monitoring and many other manufacturing and automation applications.
LEDs provide information on operational readiness, status and use of the COM interfaces for data transfer and console connection. The voltage supply is possible in the range from 9 to 48 V DC either via the terminal block or a micro-USB socket. The power supply unit and the mounting set for the DIN rail are available as matching accessories.