Artila Aport-214PG: Industrial IoT Platform with Real Time Operating System (OS)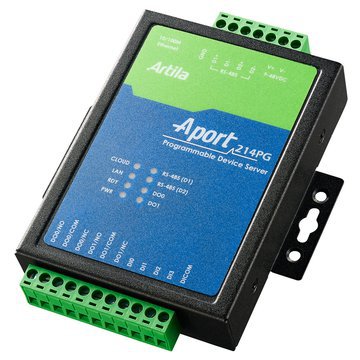 The programmable device server Aport-214PG from Artila with Real Time Operating System (RTOS), based on ARM Cortex-M4, offers individual Serial Ethernet conversion.
The new programmable serial Ethernet device server Aport-214PG from Artila is well equipped for the special communication tasks in current and future device networks. The Ethernet serial converter is powered by the energy-saving ARM Cortex-M4 processor. Its special feature is the integrated programmable operating system FreeRTOS (Real Time Operating System), which supports 35 MCU architectures and various compilation environments.
Current developments under the buzzwords M2M, ZigBee or Industry 4.0 focus on network communication between devices. The Industrial Internet of Things (IIoT) comprises a wide range of specialized end devices such as sensors, actuators and controllers, which are used in building management as well as in machine control systems, industrial plants, spacious living environments and logistics areas. Terminal devices for recording environmental data and for air and lighting control, thermostats, motion detectors, safety sensors, switches, locks, pumps, counters and much more form a network in which the individual components feed their data into the network and communicate with each other easily and securely. The first step is the concentration (collection), initial processing and transmission of serial data from the individual sensors via Ethernet. Here, serial Ethernet converters such as the new Aport-214PG act as device servers and interfaces for data acquisition.
The Aport-214PG has a Cortex-M4 processor (32-bit Atmel SAM4E16E) with 120 MHz and is equipped with 256 KB SRAM, 3 MB Flash, a 10/100 Mbps Ethernet interface and two RS-485 ports. Further features include 4 opto-isolated digital inputs, 2 relay outputs and 1 microSD slot.
The new converter supports lightweight IP (lwIP) and flexible and convenient programming with the BSD socket library. A compact web server for customer-specific web-based applications is integrated. Sample programs for data communication, web configuration and EEPROM routines are included in the development kit and facilitate a quick start. A special Windows management utility for the function overview, the configuration of the Aport-214PG and the transfer of the firmware developed by the customer are also included in the scope of delivery.
The development possibilities together with the energy-saving and low-maintenance hardware make the Aport-214PG the ideal platform for applications in IIoT and generally for the communication of serial data in TCP/IP networks.
More Serial Ethernet Device Server at acceed