ORing ORIO-G30218: Flexible Serial Radio Gateway for IoT Applications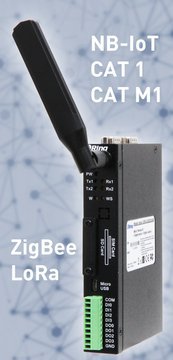 With the serial gateway ORIO-G30218 from ORing you can transmit RS232/RS422/RS485 and digital input signals to your IoT network via different radio standards.
The new radio gateway ORIO-G30218 is a flexible and cost-effective solution for transmitting serial data and switching signals via various local and mobile radio protocols. This makes the gateway particularly suitable for IoT applications, intelligent building technology or smart home systems where a large number of sensor data and status signals are to be recorded, registered and processed.
The Internet of Things (IoT) requires numerous measured values, data and signals to be recorded and fed into the network for automated processes. Data communication via radio is often more practicable than direct cabling. Depending on the situation, different radio protocols are used, each of which focuses on bandwidth, speed, energy savings or cost efficiency. With the new radio gateway ORIO-G30218, Acceed offers a flexible and attractive solution for this multitude of protocols.
The ORIO-G30218 is an IO gateway with 4 digital inputs and outputs each and 2 serial interfaces. Two digital inputs each work with and without external power supply. The serial interfaces work with baud rates up to 921.6 K. The Modbus, MQTT (protocol specifically for machine-to-machine applications) and CoAP (Constrained Application Protocol, also referred to as "HTTP for IoT") protocols are supported. The wide temperature range of operation from -40 to +75 °C allows the gateway to be installed in weather-protected enclosures, control cabinets, cable ducts or channels. Configuration and firmware update are carried out via a micro-USB connection on the front panel.
The gateway offers a variety of radio protocols for either energy-saving or fast transmission of serial data and switching signals to radio networks in the local area or LTE mobile radio network. The protocols NB-IoT (Narrowband IoT), CAT M1 and CAT 1 (LTE), ZigBee and LoRa (Low Power Wireless Network Protocol) are integrated.
NB-IoT, also known as LTE Cat NB1, is a particularly energy-efficient technology that enables devices in mobile networks to reliably transmit small amounts of data in a simpler and more efficient way. The long range in buildings is an advantage if many IoT components have to communicate securely with each other.
With LTE Cat M1, IoT and M2M devices can work if medium data rates (375 kbit/s upload and download) are sufficient. Long battery life and longer ranges compared to 2G, 3G or LTE Cat 1 are advantageous.
LoRa technology is also optimized for energy efficiency. It achieves high ranges for uplink communication, i.e. transmission from the IoT device to the network. LoRa uses the European frequency bands and is suitable for small data volumes and longer distances of approx. 3 to 12 km.
With speeds of 10 Mbit/s in the downlink and 5 Mbit/s in the uplink, LTE Cat 1 is suitable for feature-rich M2M and IoT applications, including video streaming and voice-over LTE. Applications include measurement data acquisition, remote diagnosis with video transmission or transport and logistics applications.
The ZigBee standard is designed for applications that work with low data rates and minimized power consumption. These include, for example, home automation, sensor networks and lighting control. ZigBee's focus is on close range up to 100 meters.
With its multitude of supported radio protocols, the radio gateway ORIO-G30218 offers high flexibility for numerous applications in the Internet of Things. Once configured for a system, additional devices can be quickly added to a project, each with the appropriate radio connection.
M2M Industrial Gateways at Acceed