Mactron WCP: New touch panel PCs for industry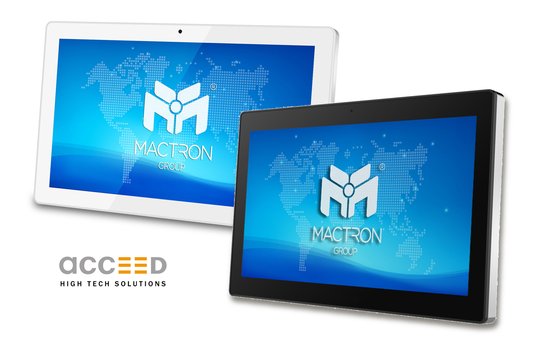 Acceed has extended its portfolio and now also incorporated the products from the manufacturer Mactron Group. The Mactron Group from Taiwan is a leading supplier of all-in-one touch systems and embedded platforms for industrial application. The developments focus on the market segments of industrial automation and medical technology, thus fitting in perfectly with Acceed's product range. Here, the most important product lines are PPC (panel PCs), BPC (box PCs), TDM (touchscreen systems) and MTP (mobile tablets). The most successful products include the WCP series panel PCs in the sizes 15.6 and 21.5 inches, which are available with various 12th generation (Alder Lake) Intel CPUs and further variants.
Touch panels or panel PCs are primarily used for machine and system control, for production-specific configurations and for production monitoring in industrial automation. Touch panels speed-up interaction between the operator and the machine. With corresponding programming and visualisation, information can be accessed fast and easily and captured intuitively. The omission of a large number of physical keys and switches reduces costs and increases production efficiency. However, compared with smartphones and tablets in the consumer area, touch panels for industrial application must be considerably more resilient, also against extreme temperatures, damp and vibrations, dirt and mechanical burdens.
The WCP series touch panel PCs, now available from the German distributor Acceed, are specially designed for industrial use. The True Flat PCAP touchscreens (projective capacitive touchscreens) with a 16:9 format are available in the sizes 15.6 inches and 21.5 inches. The PCAP design makes the monitors particularly robust and resistant against brusque operation, dust and damp. At the same time, the fanless aluminium casing remains exceptionally slim with some 50 millimetres. Thanks to its perfect adhesion, the touchscreen not only has an elegant and attractive effect, with IP65 the front plate it is also very well protected against penetrating materials. For fast accessibility, the connections, inputs and outputs are located behind a magnetic cover on the rear side.
Windows and Linux are supported as operating systems. It is comprehensively equipped with interfaces and can be configured with several options. The casing itself is available in the basic colours black or white. Further details and technical information are available directly from Acceed.