MLC 8: Encapsulated panel PC for industry and medicine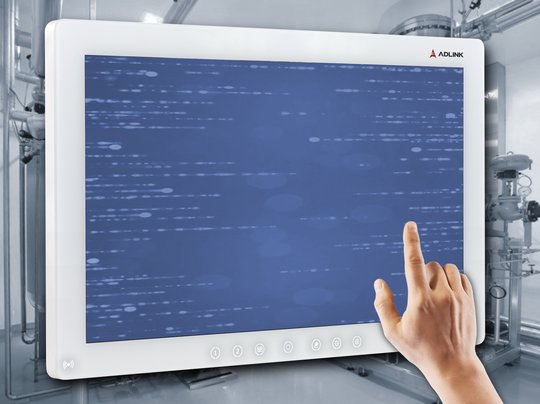 Approval requirements for medical devices are known to be high, in particular with regard to the hygienic aspect. But, also in industry and public buildings hygiene has in the meantime become an important factor with regard to interaction between people and computers. Hygiene measures hinder the spread of bacteria, viruses and further substances detrimental to health via surface contacts. The prerequisite is a device design which allows effective cleaning and disinfection, for example via gapless casing and operation elements and surfaces resistant to cleaning measures. With the new MLC 8, Acceed has now incorporated an accordingly equipped, high-performance all-in-one PC in panel format with protective category IP54 into its portfolio. The MLC 8 is approved for the medical area, but can be equally recommended for industrial applications in cleaning-intense environments.
MLC 8 is a new generation of fully equipped panel computers. The all-in-one PCs are available with the three different monitor sizes 21.5", 23.8" and 27". The fully insulated screwless aluminium casing combines functionality, purposefulness and aesthetics and has already been filed for patenting. The full-surface front monitor glass which is stuck to the robust aluminium casing enables very short cleaning times and simultaneously constant contamination control, considerably increasing efficiency in the field of use. Moreover, the MLC 8 offers wide-ranging I/O flexibility, functional extensions and a series of configuration options in order to meet the image recording, storage, connectivity and last but not least budget control requirements.
In clinical surroundings the panel is, for example, ideal for monitoring patients' vital parameters, clinical diagnosis, the depiction of patients' data, monitoring anaesthetics, OP documentation or as a PACS (picture archiving and communication system). In industrial use or interaction with the public, the reduction and simplification of cleaning results in substantially reduced waiting times and therefore to better health protection and higher production safety.
The seamless, scratch-resistant front glass is stuck waterproof and dustproof, covers the entire surface up to the rounded edges and has integrated, touch-sensitive, illuminated operating keys. A wide LED strip can be used for remote display of statuses or parameters. The FHD/UHD monitor is multitouch-capable and therefore excellently suited for contemporary App control or handling demanding graphic user interfaces. The glare protection coating ensures improved ergonomics and a wide angle of vision, equally in portrait and landscape format. Further external monitors can be connected via two high-resolution display ports. Four internal slots are available for additional storage media, frame grabbers, Wi-Fi/Bluetooth and RFID modules as well as for PCIe expansion cards.
The optional features include a Wi-Fi/Bluetooth module, an RFID reader, galvanically separated USB and serial interfaces, several working memory and hard disk memory (SSD and HDD) variants as well as a UPS backup battery for data loss protection. With a weight of some 10 kg (the 21" model), the MLC 8 can be used equally as a stationary or mobile device, for example for mobile data recording or device control and machine monitoring.