Adlink MVP-60xx: fanless industrial embedded PC holding 4 PCI/PCIe-Karten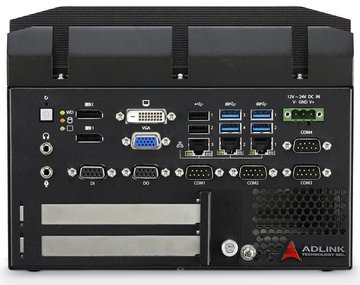 With the fanless MVP-60xx series, Adlink presents an Embedded Edge PC with 4 PCI(e) cards and Intel Core 6 Gen. for your Industrial IoT network.
With up to four slots for PCI or PCIe cards, the new MVP-60xx series of fanless industrial PCs is a powerful and cost-effective solution for all areas of industrial manufacturing, machine vision and automation. The plug-in cards (1 x PCIe x16 and 3 x PCI or 2 x PCIe x16 and 2 x PCI), which are accessible from the front in a compact housing, enable application-specific function extensions for drive control, optical quality control or other special tasks.
The individual models in the MVP-6011 to MVP-6025 series are equipped with various Intel 6th generation core processors to deliver optimum performance for the planned application. The design of the slots for various combinations of PCI and PCIe plug-in cards is also variable.
In addition to the four slots, all other integrated interfaces are accessible from the front. This makes the compact controller with dimensions of 220 (W) x 210 (D) x 209 mm (H) ideal for installation in switch boxes or machine racks. The robust design of the fanless housing is designed to withstand harsh industrial environments. Depending on the model, an ambient temperature of up to 50 °C is permissible for operation.
Integrated SODIMM sockets for dual-channel DDR4 can accommodate up to 32 GB of memory. The HD-Graphics 530 from Intel supports two independent displays with one VGA, one DVI and two display ports. In addition to two RS-232/422/485 ports and two RS-232 ports, three Gigabit Ethernet interfaces with Teaming function, six USB sockets (four USB 3.0 and two USB 2.0) and eight DI and DO channels each are available for data communication.
With a footprint smaller than a DIN A4 sheet, well-balanced performance variants and highly variable expansion options, the MVP-60xx series controllers offer an optimal and cost-effective solution for a wide range of industrial applications. The concept of fanless housings does not only reduce the number of components and control elements, but also significantly increases reliability. The robustness and reliability of Adlink IPCs, even under demanding operating conditions, has been proven for years and has been ensured by the manufacturer itself through stringent tests in its own test laboratory.