Adlink MXE-210: Industrial-IoT-gateway und embedded computer in one device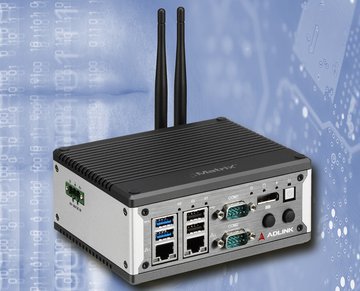 The fanless embedded edge computer MXE-210 from Adlink is the Industrial-IoT stand-alone solution, since it combines an embedded computer and an IIoT gateway in one device.
The new MXE-210 from Acceed, the independent German distributor for industrial network technology, offers two technologies in one compact device. Designed for robust use in the temperature range from -40 to +85 °C, the computer can be used both as an IIoT gateway and as an embedded computer for on-site control. The MXE-210 is therefore particularly interesting for demanding applications in the fields of transport, automation, manufacturing and smart city solutions.
The growing demand for IIoT solutions requires a variety of functions covering a wide range of operating conditions. However, users do not want to be forced to resort to different manufacturers in order to meet the requirements of the respective application. With its large number of interfaces and comprehensive support of data communication standards, the MXE-210 series is ideally suited for a wide range of IIoT and embedded control solutions.
Smooth and intelligent data exchange is becoming increasingly important for successful systems due to the rapid development in the fields of industry 4.0 and Smart Home. The MXE-210 supports the industry standards Modbus, EtherCAT, DDS, MQTT and CANOpen by Vortex Edge Connect, as well as Wi-Fi, BT, LoRa (Long Range Wide Area Network), 3G and 4G LTE for radio communication technologies. LoRa is a wireless network protocol that has been specially developed for communication in the Internet of Things and is geared towards maximum energy efficiency and energy savings.
The MXE-210 represents a series of models with different basic features in terms of CPU, memory and optional features. Acceed's experts are available to assist with model selection and configuration. This ready-to-use packaging service is one of the focal points of Acceed's professional offer and guarantees a rollout of several hundred systems per week.
All models have a fanless, industry-compatible and extremely compact housing with the dimensions 140 (W) x 58 (H) x 110 mm (D). The robust construction allows the use in harsh environments, among others with vibration resistance up to 5 Grms, shock resistance up to 100 G and the extreme operating temperature range of -40 to +85 °C. The operating systems supported are Windows 10 IoT Enterprise 64Bit and Ubuntu Linux 16.04 LTS 64Bit.
Two LAN interfaces 10/100MbE each, COM ports (RS-232, RS-232/422/485), USB 2.0 hosts and Mini PCIe slots are available for further data exchange. A USIM socket is available for installing the radio modules.
In addition, all models in the series offer EMI/EMS strength certified in accordance with EN 61000-6-4/2 for extreme operating environments. Due to their conformity with EN 50155, the controllers are approved for use in all types of rail vehicles.
Information on other IoT gateways and controllers from the manufacturer Adlink, which is a Premier Member of the Intel Internet of Things Solutions Alliance, can be obtained from the German distributor Acceed. At www.acceed.com, Acceed provides detailed information on a broad portfolio of industrial IoT components, embedded PCs and technologies for industrial applications in the transport, automation, manufacturing, research and image processing segments.