Nuvo-2510VTC: PC for vehicles with PoE, CAN bus and wireless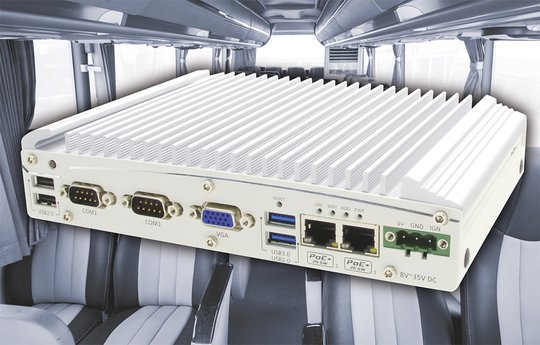 PCs for installation in vehicles must be robust, vibration-free and impact-resistant and designed for direct connection to the vehicle's battery. The new PC for vehicles, the Nuvo-2510VTC from Acceed, meets these criteria, additionally providing an integrated CAN bus (2.0A und 2.0B) in addition to two GigE ports with 25 watts output as well as the option to add two 3G/4G modules and also a WiFi module.
The Nuvo-2510VTC is a fanless PC for vehicles and has a powerful E3845 quad core Atom processor from Intel. The highly compact PC is equipped with two gigabit Ethernet ports which can be ideally used as interfaces for PoE cameras. The CAN bus, which is also integrated, simplifies all communication connections in the vehicle, saving time and cost-intense use of complicated wiring harnesses. The CAN bus supports data rates up to 1 Mbps and both frame formats 2.0A and 2.0B.
The Nuvo-2510VTC accepts a broad range for input voltage and can therefore easily be operated using the vehicle's battery. Operation can be coupled with the ignition and can switch independently from this by setting delay times. The battery voltage is monitored simultaneously. Certification of the controller for use in vehicles is being prepared. Following completion, the Nuvo-2510VTC will be awarded the ECE mark of conformity.
In addition to both PoE interfaces, the PC has a USB 3.0 port, four serial interfaces as well as three USB 2.0 ports. The Nuvo-2510VTC an be equipped with two 3G/4G modules with USIMs or a WiFi module for communication purposes. Both the Mini PCI Express slots used for this purpose can alternatively be used for other cards and tasks. With this large number of fast interfaces and expansion options, it is possible to realise the most varied vehicle applications. The housing design which was specially developed for use in vehicles ensures safe heat dissipation and also enables the fanless computer to function stably, even under harsh conditions.
Two of the serial interfaces, the audio connections, the DVI/HDMI output and the CAN bus port are placed on the back panel of the very compact housing with its dimensions of 205 (W) x 146 (D) x 44 (H). The further serial interfaces, all the communication interfaces and the input for the voltage range as well as a VGA socket are located on the front side. The SIM card plug-in at the side of the housing is easily accessible. The special shock-absorbing assembly option, for which a patent has been filed, stabilises the operation of the installed Sata HDD. Operation with SSD is permissible at an ambient temperature range from -25 to +70°C with a humidity of 10 to 90%.