Neousys Nuvo-5026E: client specific high power embedded computer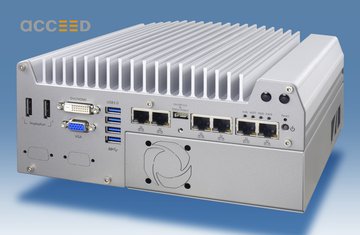 Create your own high performance embedded computer by choosing the components for the Nuvo-5026E from Neousys.
Nuvo-5026E is the latest development in Neousys' successful 5000 series of embedded PCs. The series is characterized by a high degree of customization in terms of performance, equipment, memory options and I/O extensions for data communication. The German distributor Acceed offers its special service of customer-specific assembly and delivers immediately ready for use and tested devices even in large quantities up to 100 systems per week. With its two PCIe slots, the new Nuvo-5026E is well suited to modernize existing but outdated applications with a powerful compact solution.
Flexibility and customizability are among the most frequently mentioned requirements for modern embedded PCs. Controllers with expansion slots are therefore particularly in demand. The models of the new Nuvo-5026E series have two PCIe slots, among other things, and can therefore be used for a large number of specialized tasks. Both slots are easily accessible in the patented expansion cassette without dismantling the system for quick and convenient replacement.
Ten processors of different CPU performance are available in the individual models of the Nuvo-5026E, ranging from the Celeron G3900TE with 2 MB cache to the Core i7-6700 with 8 MB cache and 3.4/4.0 GHz. All models offer 32 GB of DDR4 memory on two SODIMM sockets. Numerous interfaces and I/O functions (6 x GbE, 4 x USB 3.0, 4 x USB 2.0, 3 COM ports) allow the connection and control of external devices.
Application-specific I/O functions can be implemented as cost-effective extensions with optional mezzanine cards (MezIO modules with serial interfaces or digital I/O interfaces). Two internal SATA ports with RAID support are available for connecting 2.5" SSD or HDD hard disks; an additional external mSATA port extends the generously dimensioned storage options. In addition to the usual video interfaces DVI/HDMI and VGA, two universal DisplayPorts support 4K2K resolutions up to 4096 × 2160 pixels.
The patented cassette technology together with the innovative thermal design ensures effective heat dissipation. The nevertheless very compact controller (240 x 225 x 111 mm) allows operation at ambient temperatures of up to 75 °C with appropriate adjustment of the CPU.
The Nuvo-5026E is the ideal platform for demanding industrial applications due to its flexibility, high customizability, high performance, reliability and robustness. Acceed provides detailed information on configuration variants at www.acceed.net/ Nuvo-5026E and, as a special service, offers complete assembly according to customer requirements, even in large quantities of up to several hundred systems per week.