Neousys Nuvo-5608VR: Mobile Video Controller for 8 PoE Cameras and HD Streaming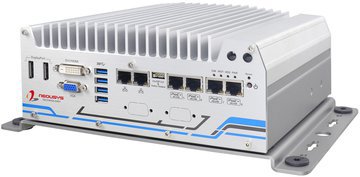 Mobile video surveillance by 8 PoE cameras on the vehicle in full HD with the mobile embedded computer Nuvo-5608VR from Neousys.
Embedded controllers for video surveillance and other demanding vision applications must be particularly robust when installed in vehicles, vibration- and shock-resistant and designed for direct connection to the vehicle battery. The new Nuvo-5608VR video controller from Acceed is specified for such high requirements. Eight Gigabit PoE ports are available for HD data streams from IP cameras, supplemented by two additional GbE ports and a total of eight USB ports.
The fanless controller in the rugged industrial housing Nuvo-5608VR is designed as a central interface for mobile video surveillance for recording and evaluating as well as streaming video signals in real time. Based on an Intel 6th generation processor, the controller offers the possibility to connect up to eight PoE cameras. Various processors from i7 to i3 are available. Two slots for internal 3.5" HDD hard disks with RAID 0/1 support create storage capacity of up to 24 TB. According to the manufacturer, this allows video images of H.264 quality to be stored for up to three months before overwriting. The specialized heat dissipation ensures an adequate operating temperature of the hard disks. The patented damper plate protects the system from vibration under harsh operating conditions.
The eight Gigabit PoE ports provide not only high bandwidth, but also power to the connected cameras without the need for additional power supplies or cables. If required, the PoE function can be switched off individually for each port. Eight USB interfaces, four of them USB-3.0, are available for fast connections to peripheral devices. Four different Mini PCIe slots with internal SIM sockets can be used for individual functional extensions. Further interfaces (2 x RS-232/422/485, 1 x RS-232, 4 isolated digital inputs and outputs each, 1 CAN bus port) as well as connections for audio and graphics (1 x stacked VGA + DVI-D, 2 x DisplayPort with 4K2K resolution) complete the equipment.
With its features, the Nuvo-5608VR combines high bandwidth and computing power with features uncompromisingly focused on real-time video processing, high reliability of all components, and a compact and rugged chassis measuring 240 x 225 x 98 mm. The housing with its large cooling chamber allows fanless operation at ambient temperatures from -25 to +70 °C when using an SSD via the mSATA connection, or from -10 to +60 °C with built-in HDD hard disks. The power supply is possible in the range from 8 to 35 V DC. The Nuvo-5608VR is thus just as well equipped for stationary operation as for applications in vehicles.

Add links, similar products