Neousys Nuvo-6108GC: GPU power delivers peak performance in parallel industrial applications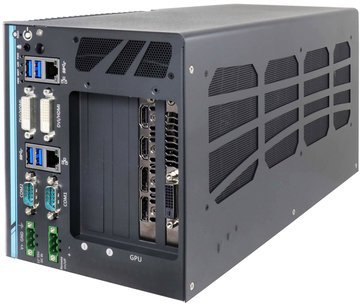 GPU acceleration in parallel computations use with the high-performance embedded computer Nuvo-6108GC from Neousys.
The technology of complex computations is currently undergoing a development away from pure CPU systems and towards division of labour operations on the CPU and the graphics processor. In contrast to the CPU (Central Processing Unit), the GPU (Graphics Processing Unit) is a processor core specialized and optimized for the calculation of graphics. The programming technique CUDA (Compute Unified Device Architecture) developed by Nvidia, with which program parts can be processed by the graphics processor (GPU), leads to significant performance increases in highly parallelizable program sequences. The industrial graphics computer Nuvo-6108GC, now available from the German distributor Acceed, is the ideal platform for GPU-accelerated applications of simulation, virtual reality, machine vision and many other CUDA-based computations.
CUDA is a parallel computing architecture developed by Nvidia that can significantly increase the computing power of the system by leveraging the power of the GPU. The tasks that can be parallelized include not only graphics but also weather calculations, finite elements or matrix operations. At the same time, the CPU is relieved and is available for other tasks. Industrial applications benefit from machine vision, intelligent video surveillance, process analysis, data visualization and simulation.
The new industrial PCs of the Nuvo-6108GC series support graphic controllers from Nvidia up to 250 W TDP. The patented thermal design with the large fresh air supply via the regulated fan ensures an effective dissipation of the heat generated by the GPU and enables reliable operation with 100% utilization at ambient temperatures of up to 60 °C. The GPU can be operated at a maximum temperature of up to 60 °C. The GPU can also be operated at a maximum temperature of up to 60 °C. Alternatively, the integrated graphics unit Intel HD Graphics 530 is available. The also patented vibration damping ensures operation up to 1 grms, 5-500 Hz, 3 axes (with GPU, fan and HDD) according to IEC60068-2-64.
The Nuvo-6108GC works with either Intel Xeon E3 V5 processors or various Intel i7/i5 6th generation processors and 32 GB DDR4 memory. Numerous interfaces and I/O functions (2 x GbE, 4 x USB 3.0, 2 serial interfaces RS 232/422/485) allow the connection and flexible control of external devices. Functional expansions are conveniently possible via the PCIe slots (x16, x8) and a mini PCIe slot. An M.2 socket (formerly NGFF) is available for optional mobile communication (3G/4G).
The 4 internal SATA connectors for 2.5" SSD or HDD hard disks support RAID 0/1/5/10. Two graphics outputs with DVI-D connector each offer 1920 x 1200 pixel resolution, one DVI-I connector is available for analog and DVI connections.
The Nuvo-6108GC is the ideal platform for the growing market of GPU-based industrial applications with its GPU-supported performance optimization and industry-standard ruggedness at high ambient temperatures. Acceed informs on www.acceed.com about configuration variants of the new industrial PC as well as about further industrial box PCs and components for professional signal processing and communication technology.

Links to GPU embedded edge computing