Nuvo-7160GC: GPU-PC gains performance from graphics card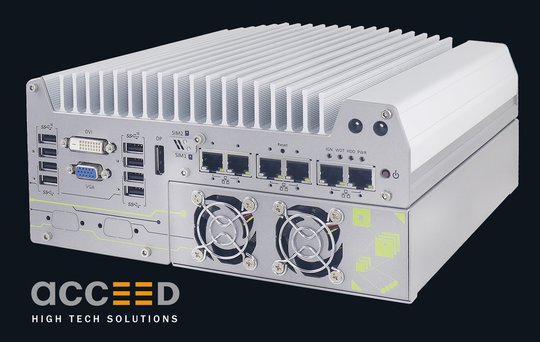 The GPU-supported Industry PC Nuvo-7160GC based on 8th generation Intel CPU (Coffee Lake), supports GPUs with up to 120W output and 4 to 6 teraflops, including up to 6 GbE (optionally with PoE), 4 USB 3.1 Gen 2, 4 USB 3.1 Gen 1, MezIO interface, PCI/PCIe cassette and mini PCIe.
The new GPU-supported Industry PC Nuvo-7160GC now available from Acceed is the high-performance and robust embedded platform, in particular for graphics-based machine applications such as in-line production control, real time video analysis, autonomous transport, face recognition and virtual reality. The system supports GPUs with up to 120W output and provides computing power from 4 to 6 teraflops. Based on various 8th generation Intel processors (Coffee Lake), the controllers convince primarily with the variety of their interfaces, including up to 6 with gigabit Ethernet (optionally with PoE), 4 USB 3.1 Gen 2, 4 USB 3.1 Gen 1, MezIO interface, PCI/PCIe cassette and mini PCIe. Its sophisticated design enables operation within a wide temperature range from -25 to +60°C.
The GPU controller Nuvo-7160GC is a power package and, with its individual selection of performance features (CPU, interfaces, patented expansion cassette, Mezzanine board configured specifically for the end-customer), its versatility can hardly be surpassed.
As an alternative to or an extension for the integrated graphics unit Intel HD Graphics 530, the controller supports high-performance graphics cards with up to 120W power consumption, for example the GeForce GTX 1050Ti from Nvidia. With the CUDA architecture developed by Nvidia for parallel calculations, the system's calculation power can be increased considerably by using the graphic processor's performance. The controller CPU is relieved and is available for other tasks. Demanding applications profit specifically in the machine vision, intelligent video monitoring, process analysis, data visualisation and simulation areas. A current list of the graphics cards supported, also with higher performance, is available from Acceed upon request.
As a basis, various 8th generation Intel processors can be selected. The working memory can be extended up to 32 GB (DDR4 SDRAM), 2 internal SATA ports (2.5" SSD/HDD) with RAID support are available for hard drives, moreover an M.2 slot for NVMe-SSD or Intel Optane memory.
The design of the fanless full metal housing consisting of resistant aluminium alloy is designed to meet the high requirements in production, automation and intelligent building technology. Six gigabit Ethernet interfaces ensure sufficient bandwidth for data exchange. Optionally, PoE according to standard 802.3at is available for four of the Ethernet interfaces. With respectively up to 56 watts' output it is also possible to provide devices with higher power requirements with electricity directly via the LAN cable. Respectively four USB- 3.1 Gen 2 connections (10 Gbps) and 3.1 Gen 1 (5 Gbps) as well as several serial interfaces support fast data communication with further peripheral devices.
End-customer specific I/O functions can be implemented as good value extensions with optional Mezzanine cards (MezIO modules with serial interfaces, digital I/O interfaces, LVDS output, CAB bus, DTIO or memory extension).
The patented expansion cassette, which can optionally be equipped with PCI or PCIe cards or is used as a pre-configured compact module with a heat spreader, PoE, USB 3.0 and an independent graphics card, offers additional expansion options. It is also possible to equip them with mini PCIe cards with an SIM card slot which can be accessed internally or externally. As a special service, Acceed offers full ready assembly in accordance with customer wishes, also in high quantities.
In addition to the common DVI-D and VGA graphics outputs, a universal port exists, supporting 4K2K resolutions up to 4096 × 2304 pixels.
GPU-supported power and robustness designed for industrial use (in particular the immunity against ESD and voltage peaks emphasized by the manufacturer) and the exceptional functional versatility make the Nuvo-7160GC the top choice platform for demanding graphics applications, for example in the areas of production control, security, logistics, image processing, robot control, traffic monitoring and automation.