Neousys Nuvo-7000: Fanless Industrial Embedded PC with Coffee-Lake-Core, 6 x GbE and MezIO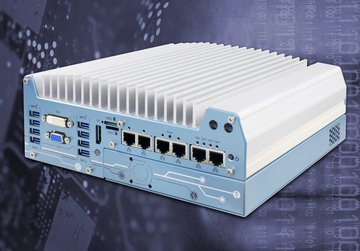 The fanless Nuvo-7000 embedded computer from Neousys with coffee-lake core provides Gigabit Ethernet with PoE, USB 3.1, (m)PCI(e) and MezIO interfaces for industrial use.
The Nuvo-7000 series of industrial box PCs now also available in Germany represents a new generation of high-performance one-for-all platforms. Based on various 8th generation Intel processors (Coffee Lake), the embedded controllers of the Nuvo-7000 series are particularly convincing due to their numerous interfaces, including up to 6 x Gigabit Ethernet with PoE, 4 x USB 3.1 Gen 2, 4 x USB 3.1 Gen 1, MezIO interface, PCI/PCIe cassette and mini-PCIe. The range of application is tailored to industrial requirements, including permissible operation in the extended temperature range from -25 to +70 °C with full CPU load.
The embedded computers of the new Nuvo-7000 series are powerhouses and, with their individual selection of performance features (CPU, interfaces, patented expansion cassette, mezzanine board configured specifically for end customers), can hardly be surpassed in versatility. As basis different Intel processors (35/65W TDP) i7, i5, i3, Pentium or Celeron are available. The main memory is expandable up to 32 GB (DDR4 SDRAM), 2 internal SATA ports (2.5" SSD/HDD) with RAID support are available for hard disks, as well as an M.2 slot for NVMe SSD or Intel Optane memory.
The design of the fanless full metal housing made of a robust aluminium alloy is designed to meet the high demands of production, automation or intelligent building technology. In addition to stationary applications, operation in vehicles is also functionally supported, for example with switching options via the ignition.
Up to 6 Gigabit Ethernet interfaces provide sufficient bandwidth for data exchange, as is required for machine vision applications, for example. 4 USB ports each 3.1 Gen 2 (10 Gbps) and 3.1 Gen 1 (5 Gbps) as well as several serial interfaces are available for fast data communication with peripheral devices.
End customer-specific I/O functions can be implemented as cost-effective extensions with optional mezzanine cards (MezIO modules with serial interfaces, digital I/O interfaces, LVDS output, CAN bus, DTIO or memory expansion).
The patented expansion cassette, which can be equipped with either PCI or PCIe cards or used as a preconfigured compact module with heatspreader, PoE, USB 3.0 and independent graphics card, offers additional expansion options. All Nuvo-7000 models can also be equipped with mini PCIe cards that have an internal or externally accessible SIM card slot. As a special service, Acceed also offers complete assembly according to customer requirements in quantities of up to several hundred systems per week.
In addition to the usual graphic outputs DVI-D and VGA, a universal DisplayPort is available that supports 4K2K resolutions up to 4096 × 2304 pixels.
High performance and robustness (especially the manufacturer's emphasis on immunity to ESD and voltage peaks) as well as the exceptional functionality make the box PCs of the new Nuvo-7000 series the platform of choice for demanding applications such as automation, manufacturing, machining centers, bottling plants, packaging, production control, logistics, image processing, robot control, monitoring and building automation.
Nuvo-7000 at Acceed