Nuvo-9160GC: GPU controller motorises AI and edge computing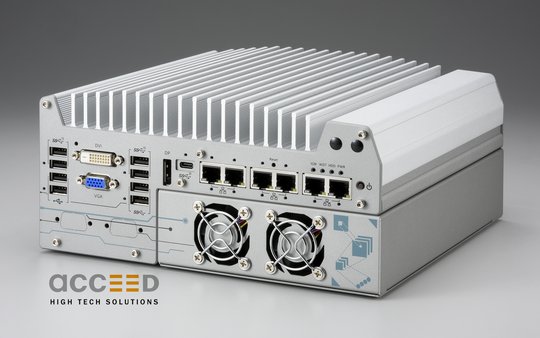 In addition to large memory capacity for the data basis, AI applications and edge computing scenarios above-all require high processor power for the evaluation of data and real time reaction. Here, the main performance is currently provided by specialised GPU computers whose architecture is precisely tailored to these tasks. At the same time, the controllers with as small a construction size as possible should be robust and usable in virtually all areas, whether automation, medicine, logistics or general image and data processing. The new Box controller Nuvo-9160GC from the German distributor Acceed is designed to achieve precisely these targets. The platform, which can be configured in accordance with customer requirements, supports the latest RTX-GPU from Nvidia with an output of up to 130 W and supplies a processor power of up to 9 teraflops based on various 12th generation Intel processors.
The GPU controller Nuvo-9160GC is a power package for real time AI inference tasks and, with its individual selection of performance features (CPU, interfaces, patented expansion cassette, customer-specific Mezzanine boards), its versatility can hardly be surpassed. The most important interfaces are 6 x gigabit Ethernet (optionally with PoE), 9 x USB (of which 7 are USB 3.2), MezIO interface, PCIe cassette and mini-PCIe. Its sophisticated cooling design enables operation within a wide temperature range from -25 to +60°C with 35 W CPU output and 130 W GPU output.
As an alternative to or an extension for the integrated graphics unit Intel HD Graphics 770, the controller supports high-performance graphics cards with up to 130W power consumption, for example from Nvidia. With the CUDA architecture developed by Nvidia for parallel calculations, the system's processing power can be increased considerably by using the graphic processor's performance. The controller CPU is relieved and is available for other tasks. As a system basis, various 12th generation (Alder Lake) Intel processors are available. The working memory can be extended up to 64 GB (DDR5 4800 SDRAM), 2 internal SATA ports (2.5" SSD/HDD) with RAID support are available for hard drives, moreover an M.2 slot for NVMe-SSD. In addition to the common DVI-D and VGA graphics outputs, a universal display port exists, supporting 4K2K resolutions up to 4096 × 2304 pixels.
End-customer specific I/O functions can be implemented as good value extensions with optional Mezzanine cards (MezIO modules with serial interfaces, digital I/O interfaces, LVDS output, CAN bus, DTIO or memory extension).
GPU-supported output and robustness designed for industrial use and the exceptional functional versatility make the Nuvo-9160GC the top choice platform for demanding AI applications, for example in the areas of production control, video analysis, logistics, building automation or autonomous robots (AMR). As matching accessories, fitting power supplies and vibration-reducing mounting brackets are offered.