Nuvo-9501: Good value embedded PC with a powerful basis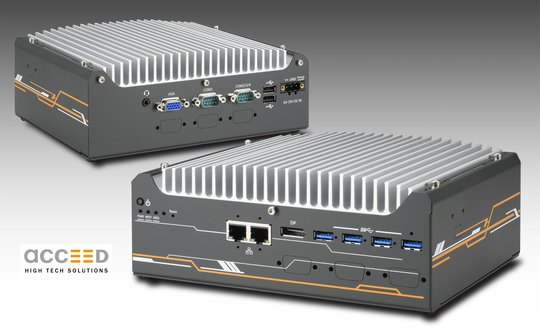 Designed for industrial requirements and professional applications, the embedded PC Nuvo-9501 now available from acceed rounds off the range of high-performance and compact 9000 series controllers also available from acceed. With its new model, the manufacturer Neousys focuses on cost-effective, but highly performant basic equipment for universal application in industrial surroundings. Various options and extension possibilities enable targeted configuration and adaptation to specific requirements. Here, the area of use is clearly adjusted to industrial environment, also via the admissible operation temperature range from -10 to +60 °C.
The Nuvo-9501 is the latest product in the series of robust embedded systems with support for the current 12th and 13th generation Intel CPUs, which offer a considerable performance boost compared with their predecessors. The robust design captivates with its compact dimensions of only 212 x 165 x 80 mm. Its excellent processor power combined with high stability make the Nuvo-9501 a cost-effective choice for a large number of industrial standard applications.
The Nuvo-9501 was developed with a focus on industrial applications and provides important IO functions and communication interfaces for this environment, including two 2.5 GB Ethernet connections, four USB 3.2 connections and two further connections with the USB 2.0 specification. Its integrated graphics controller supports a resolution of 4096 x 2304 pixels via the display port and has an additional VGA output for resolutions of up to 1920 x 1200 pixels. The COM interfaces can be optionally used with the RS-232, RS-422 and RS-485 standards.
It has two internal mini PCIe slots and an M.2 socket, the latter for example for the integration of a WLAN 6 or 5G/4G radio module. A further M.2 socket (PCIe Gen4 x4) is used to connect an NVMe-SSD for expansion of the internal memory. The internal SATA port is suitable for a 3.5" HDD or 2.5" HDD/SSD.
With the latest addition, Neousys now offers a wide range of fanless embedded computers via the distributor Acceed with support for the 12th and 13th generation Intel CPUs, including the Nuvo-9000, Nuvo-9531 and the new Nuvo-9501 series.