Neousys PCIe-PoE334LP: Low Profile Frame Grabber Controller Card with 4 x Gigabit PoE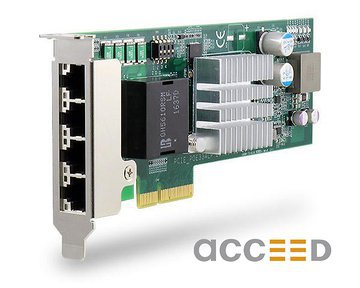 The search is over: Neousys presents the first frame grabber PoE PCIe card in low-profile format for server applications.
The new PCIe-PoE334LP is designed as a frame grabber for server use and is the first PoE card in PCIe-Low-Profile format. As a powerful controller, the card serves demanding solutions in image processing applications, such as traffic monitoring and production control, or in security and imaging systems. The card is available immediately from the German distributor Acceed.
The new PCIe-PoE334LP controller card is designed for typical use in PoE applications, such as automatic optical inspection (AOI), factory automation or IP surveillance, for example in traffic areas or access control.
The heart of the card is its I350-AM4 Gigabit Ethernet controller from Intel with four RJ45 connectors. All four Ethernet interfaces support 802.3at PoE+ and provide up to 25.5 watts of power each, up to a maximum of 75 W total power (limited by the PCIe bus). An API provides the option of enabling the voltage for each of the four ports individually in the event of an interruption or error reset. Supported are 9.5kB jumbo frames, Teaming and the Precision Time Protocol (PTP) according to IEEE 1588.
The solid overvoltage protection according to IEC 61000-4-5 class 2 resists overvoltages up to 1 kV and 8 kV ESD on the signal lines. This makes the card suitable for outdoor use, such as video surveillance, or production environments where overvoltages over the network can cause severe damage.
Thanks to its low-profile format with dimensions of 168 mm (W) x 69 mm (H), the PCIe-PoE334LP fits perfectly on edge into industrial 2U servers. Despite its small size, the card is powerful and secure for server applications, yet as rugged as it is required for industrial environments.