PXI/PXIe systems: Reduce development costs with a mobile PXI solution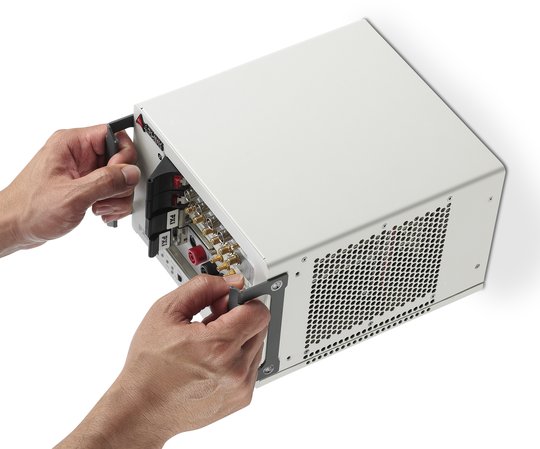 The picture which many people have in their minds when they think of a constructor's and hardware developer's workplace: a chaotic workbench full of cables, clamps and printed circuit boards, topped by a heavy oscilloscope and a fuming solder gun. Even if measuring instruments are becoming increasingly efficient and have a less pretentious appearance, one problem appears to remain persistent: too little space for too many devices.
The PXIe compact chassis PXES-2314T solves space problems
For tests and examinations, commonplace measurement devices such as oscilloscopes, stabilised electrical sources, signal generators and electrical load equipment which are all in bulky casing fast overexert the freely available space. This is further aggravated by the fact that despite their size the devices are mostly only intended for one single purpose. So new testing tasks require further devices. Synchronisation also becomes problematic with the increasing quantity. Delaying setup work and extending testing processes and quality controls. Manual settings cost a lot of time; the options are often limited. Everyday problems with which R&D engineers are confronted.
As a distributor für industrial and research establishments, acceed is aware of these challenges and always supports the use of flexible and modular PXI/PXIe systems. The advantages of PXIe systems are clear: they are standardised, proven, reliable and flexibly configurable for a wide range of tasks due to the fast exchange of plug-in cards, not only in the laboratory but also for industrial use. In-brief, PXIe systems enable comfortable examinations, tests and controls directly at your desk, only supported by a laptop as required.
Advantages of autonomous systems
Last but not least, autonomous systems in their own chassis provide the advantage of flexible handling. This makes them considerably faster and better for mobile use as standalone devices or fixed installed PXI cards in desktop computers. The currently possible connection to various laptops with the PXES-2314T via Thunderbolt cables enables full test and measurement setup for laboratory and mobile use. The Thunderbolt connection, which can be recognised with its rotatable USB-C plug, increases the transmission rate to up to 40 Gbit/s in connection with the USB 3.1 specification and bundles all the image, sound, energy and data transmission channels. The active interface with optical transfer also allows high reaches.
The combination of several functions in one single chassis enables the joint use of host resources such as the desktop, electricity supply and internal Bus interface, thus reducing initial equipping investment costs. Instead of several devices, the PXES-2314T can, for example simultaneously incorporate a spectrum analyser, a signal generator, a high-frequency attenuator pad and an electricity meter. Here, both the plug-in card connections and the chassis interfaces are accessible from the front side. The dimensions of the stable and robust chassis are only 208 x 149 x 221 mm. Both screwed on handles can be moved to the rear to save space. The ample ventilation grille and large ventilator opposite it achieve high cooling performance. The temperature, fan and voltage are monitored: three LEDs display the status. A programmable trigger connection enables synchronisation of the measurement modules.
Thunderbolt cables of various lengths are available directly from acceed as individual accessories or in a kit with a chassis and power supply. Searching under acceed.com/de/search/?q=pxi provides a variety of information about PXI/PXIe components and systems for industrial measurement and control technology.