PXIe system: more than a box with cards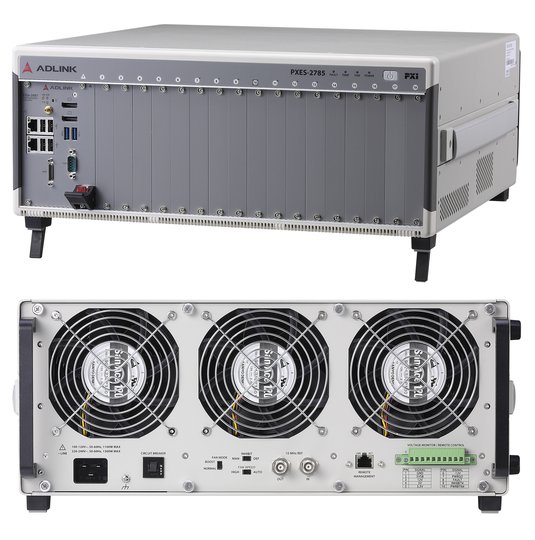 "Measurement data is the driver of digital transformation". That is how Technology Consultant Rahman Jamal, until recently primarily known as a Business and Technology Fellow at National Instruments, phrased it. One matter is certain: no company will get around digital transformation in current times any longer. Model-based development, manufacturing analyses and the monitoring of products during operation constitute just a few examples of this. On the other hand, automated measurement and testing is an integral component of the digital product life cycle. Measurement data provides a wealth of information, also giving information pertaining to the performance of the product or the system component, regarding quality and even pertaining to operational performance. Production data is recorded and trends are analysed, with the objective of improving the manufacturing process. Limit values are adapted by learning and routines optimised with the target of reducing the statistical danger of failure.
Thanks to their high-speed communication, high data transfer rates and access to high-performance processing technology, PXIe systems can be used to considerably increase measurement speed and productivity in most automated test environments. The PXI standard guarantees compatibility with further PXI, PXIe or cPCI instruments and peripheral modules. The modules communicate via internal high-speed connections, enabling precise triggering and complex interaction in this manner. Standardised device drivers and software tools ensure fast system configuration and easy adaptation to customer-specific requirements.
Despite the PXI Bus development already started during the late 1990s, PXI systems consisting of a chassis, a controller and an application-specific number of specialised plug-in cards are still now the most reliable and efficient solutions for recording and merging high-quality measurement data as a motor for data-driven innovation. The German distributor Acceed strongly recommends the perfectly coordinated components from the manufacturer Adlink, specifically the current 3-HE chassis PXES-2785 with 18 slots and one of the new controllers PXIe-3987, PXIe-3977 or PXIe-3937 matching it.
The three sister versions vary primarily in their respective processor, for the PXIe 3987 this is the highly performant Intel i7-7820EQ with 3 GHz basic clock rate, 45 W TDP and Turbo Boost 2.0. With these key performance indicators, the controller is suitable for the most demanding of tasks in multitasking environments with several simultaneous and independent measurement or testing tasks. The integrated GPIB interface (Micro-D) is a highlight for fast data communication with PCs and further external devices. The Intel processor installed with Kaby Lake architecture used is uncompromisingly optimised for energy efficiency and performance and can be booted with turbo boost up to 3.7 GHz. If the system is configured accordingly, data throughput of up to 16GB/s is possible. Thanks to the high performance of the quad core controller, in particular, the realisation of applications with increased requirements regarding data analysis or process data processing is possible.
Corresponding with the targeted use scenarios in the area of testing & measurement, the PXIe-3987 is neither sparing with its interfaces nor its storage capacity. Two USB 3.0 ports, four USB 2.0 ports, two GbE ports (one for LAN and the other for controlling LXI measurement instruments), two display port sockets and the integrated GBIP (General Purpose Interface Bus) controller ensure the necessary flexibility in a wide variety of applications. Trigger I/Os for sophisticated PXI trigger functions and a programmable RS-232/422/485 interface round off the equipment. Acceed offers the controller either with pre-installed SATA HDD as of 500GB or with SSD as of 240GB.
The high availability required for reliable test systems is also achieved with the double BIOS backup. If the main BIOS has crashed, the system boots from the secondary BIOS and automatically restores the main BIOS. This can avoid costs and work for servicing. Moreover, the full metal housing elements protect electronic components and improve electromagnetic compatibility.
For detailed information about PXI/PXIe systems and further components for industrial measurement and control technology, please refer to www.acceed.com/.