SEMIL-1300GC: Rack PC with Nvidia GPUs and M12 connections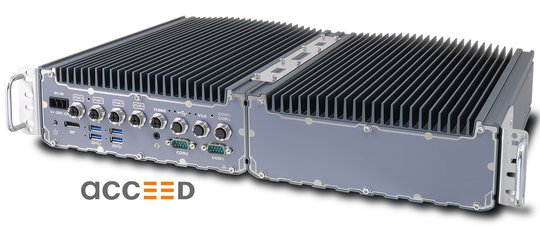 The now newly announced industrial Box PC SEMIL-1300GC from Acceed convinces with a clever extension concept. Here, the basic model SEMIL-1300 is extended to the full rack width and then has a high-performance GPU Tesla T4 or a Quadro P2200 from Nvidia in addition to the integrated Intel UHD graphics card. With this, the SEMIL-1300GC is equipped perfectly for edge computing use and generally for inference tasks in AI-based applications. The series SEMIL-1300 and SEMIL-1300GC industrial Box PCs are well-protected against weather, dust and vibration influence with M12 connections. Certified in accordance with EN 50155, the compact, fanless IPCs are also prepared for operation within the extended temperature range of -25 to +70 °C and use in all vehicle types.
Whilst the basic equipment is identical for both series models, the SEMIL-1341GC has an additional Tesla T4 graphics card and the SEMIL-1321GC a Quadro P2200. The Tesla T4 is based on Nvidia's Turing architecture and accelerates high-performance computing in the areas of deep learning training, machine learning data analyses and graphics. Here, the card is highly energy-efficient with 70 Watts. The less expensive Quadro P2200 is based on Pascal architecture, also offering convincing performance; the planned application is finally decisive. The cooling concept for the patented fanless casing ensures stable GPU performance without throttling at ambient temperatures of up to 62 °C. Moreover, operation is permissible within the extended temperature range from -25 to +70 °C.
Both series models are highly robust 2U computers with a full rack width. The M12 connections for the most important interfaces (USB, COM, graphics) ensure safe cabling. As CPUs, either XEON-E modules or the 8th/9th i3/i5/i7 generation Intel processors are used for both models. The proven C246 chipset supports up to 64 GB type DDR4 working memory (ECC or non-ECC). The four gigabit PoE ports 802.3at supply the connected devices with up to 25.5 W power. A 10 GbE port is optionally available. Two internal M.2 bases are provided for Wi-Fi and G4/G5 radio modules, two mini PCIe bases serve for functional extensions. Both SATA connections for 2.5-inch hard drives (SSD or HDD) enable generous local data storage capacities. An M.2-M base allows extension with NVMe SSDs or Intel Optane memory. The power supply with integrated trigger control, which is also designed for use in vehicles, has 8 to 48 V direct current.
With their high manufacturing quality, generous and highly performant basic equipment and respective GPU extensions, the SEMIL-1300GC series models are a recommendation for real time AI inference applications under harsh industrial conditions.