SEMIL 1700: Waterproof Box PC with SuperCAP UPS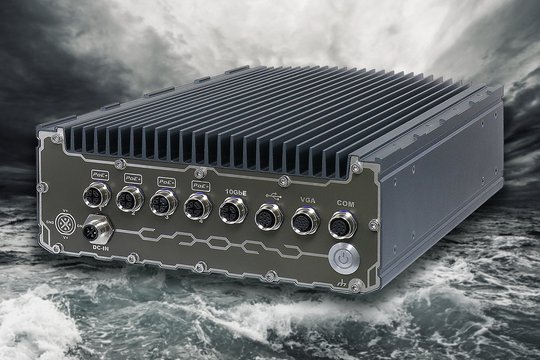 The new SEMIL-1700 series industrial Box PCs are extremely robust and resistant against weather, dust and vibration influence. Certified in accordance with MIL-STD-810G and EN 50155, the compact, fanless IPCs are excellently prepared for use in all vehicle types, in machinery and production plants and in regions with high temperature fluctuation. The model SEMIL-1710J even offers the integration of a patented emergency power module based on SuperCAP.
If robustness is relevant and demanded, the new IPC series SEMIL-1700 models are the answer. All models in this series are extremely resilient 2U computers with half of the rack width and are waterproof and dust-protected in accordance with IP67. As CPUs, either XEON-E modules or the 8th/9th i3/i5/i7 generation Intel processors are used. The proven C246 chipset supports up to 64 GB type DDR4 working memory (ECC or non-ECC). The mature thermo design ensures stable performance despite the fanless chassis. A composite panel as an accessory enables comfortable assembly in 19-inch racks pair by pair.
The corrosion-protected casing consisting of stainless steel and aluminium equips the SEMIL-1700 for use in damp surroundings and saline air. All series models use M12 connections for all interfaces (USB, COM, graphics, audio), also ensuring stable connectivity whilst the system is subjected to impact and vibrations. The up to eight gigabit PoE ports 802.3at supply the connected devices with up to 25 W power. A 10 GbE port is optionally available. The internal M.2-M base allows extension with NVMe SSDs or Intel Optane memory. Two mini PCIe bases are used for functional extensions and two SATA connections for 2.5-inch hard drives (SSD or HDD) enable generous data storage capacities. The power supply with integrated trigger control, which is designed for use in vehicles, has 8 to 48 V direct current.
As a special feature, the model SEMIL-1710J can be connected to a SuperCAP-based emergency power module which allows the handover of 2500 Watt seconds' stored energy to the system in order to enable it, for example, to shut down safely in case of unexpected electricity failure or to keep it operating for a short period. Super capacitors, also referred to as SuperCAPs, are the cost-efficient and service-friendly alternative to the traditional battery UPS. SuperCAPs contribute to cost reduction, increase energy efficiency and are - and this is not very unimportant - generally more environmentally friendly than lead acid batteries.
With its protection against water, dust, high and low ambient temperatures (-40 to +70 °C during operation), impact, vibrations and electricity failure, the SEMIL-1700 series is the best choice for edge computing applications for which robustness and operational safety are particularly relevant.