ORing TINJ-101GT-M12 PoE injector: waterproof power for your Network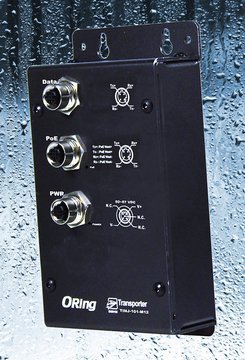 EN 50155 compliant power supply with PoE injector TINJ-101GT-M12 from ORing - well protected against external extreme conditions and voltage fluctuations.
In outdoor areas, vehicles and industrial applications with special protection requirements, the power supply for otherwise robust network devices means a high additional effort. It is faster and easier with PoE. The PoE injectors of the "Transporter" series with waterproof M12 connections are specially designed and manufactured for industrial applications in harsh environments as well as rail and other vehicles. The devices meet the requirements of EN 50155 for electronics in rail vehicles and are particularly robust against extreme ambient temperatures, humidity, dirt, vibration and voltage fluctuations.
TINJ-101GT-M12 is a small PoE injector of the latest generation and has a PoE output with the specification 10/100/1000 Base-T(X). The injector is specifically designed for high requirements in industrial environments in accordance with EN 50155. All three connections for input, output and power supply are designed as waterproof, screwable M12 sockets. These strong and secure connections ensure reliable operation especially in mechanically demanding applications exposed to high humidity, vibration and shock.
The intelligent electronics switch on the voltage at the output only after the connection of a PoE device has been detected and validated. This ensures that connected network devices without a PoE function are reliably protected against overvoltage. The maximum length of 100 m permitted for CAT5 cables prevents voltage drops and makes the TINJ-101GT-M12 compatible with all terminal devices that comply with the IEEE 802.3at/802.3af specification.
An extended ambient temperature range of -25 to +70 °C is permitted for operation. The full metal housing measures 89 x 40 x 178 mm. The voltage input for 12 to 57 V DC is protected against overvoltage. The output delivers up to 30 W of power.
Acceed offers more than 100 products with EN-50155 certification in its portfolio. On the website you can find a lot of technical information about the industrial communication technology and the complete product portfolio of ORing (www.acceed.net/oring).