Adlink USB-2405: Starter-Kit for Preventive Monitoring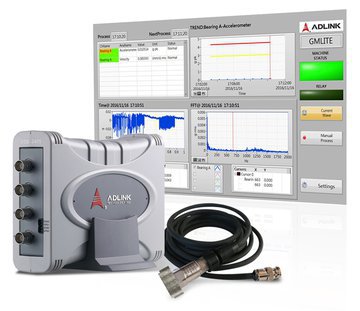 Prevent unnecessary downtime with our Preventive Monitoring Starter-Kit, consisting of sensor, fast DA-converter and evaluation software.
Better safe than sorry: this is the goal of predictive maintenance, also known as preventive condition monitoring. Cracks and fractures are announced by changes in vibration frequencies, especially in motor bearings. They only need to be detected early in order to prevent sudden failures and standstills. Acoustic emission testing with high-speed data acquisition, for which a cost-efficient starter kit is now available from Acceed, is used to identify bearing damage at an early stage.
The Adlink starter kit for preventive machine monitoring consists of an acceleration sensor with holding magnet and 3 m connection cable, the USB-2405 data acquisition module (24 bit, 4 channels) and the Phoenix GM Lite graphical evaluation software. The kit is ready for operation and only requires a laptop for the software and the USB cable for the data and power connection for mobile use in the field.
The method of vibration recording for the purpose of predictive condition monitoring for rotating elements and bearings is particularly efficient. The software analyses the data recorded by rotating components, monitors the machine condition on the basis of the vibration bandwidth and, depending on the configuration, can issue alarms as soon as defined thresholds are exceeded. The alarm thresholds are freely adjustable or can be set according to ISO 10816 (evaluation of machine vibrations). The software can be configured quickly and easily using graphical analysis blocks, which are compiled for the desired function. This makes even more complex multitask analyses possible without special programming knowledge.
The DSA module USB-2405 is quickly and intuitively ready for use. Thanks to the USB connection to the laptop, the power supply is also secured. The four-channel module with the connection of microphones or acceleration sensors is suitable for digitizing vibrations during vibration or acoustic measurements. Other features include a 2 mA excitation current source integrated into each channel without additional signal conditioning, and anti-aliasing filters for automatic adjustment of cut-off frequencies to the sampling rate. One sensor is already included in the starter kit, three more can be connected in parallel to the four-channel device.
Conclusion: Thanks to the ease of use of the software for analyzing acoustic emissions, the starter kit, which can be used immediately and in mobile applications, can help, for example, to identify the development of cracks as a result of material fatigue, overload or lack of maintenance and thus enable early predictions of rolling bearing damage, among other things.