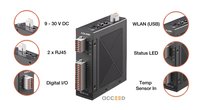 Data recording in Industry 4.0 manufacturing environments is used for identifying and collecting important information, which is also necessary as … read more
Rugged fanless embedded controllers with high-performance and plenty of embedded I/O functions. The efficient heat-dissipating design offers true wide temperature range operation from -25°C to 70°C. Perfect for your application with customized components like CPU, RAM, SSD, HDD, PCIe etc. that we deliver, install and test.
There are no categories here at the moment.