PXIe-3988: The first PXIe server grade controller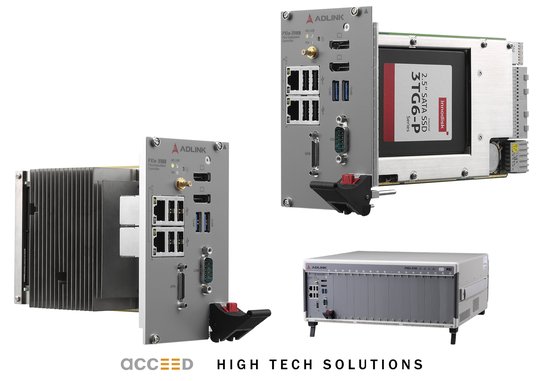 The new PXIe-3988 controller with a XEON-E-CPU is the first of its kind with server quality and is available with immediate effect from the German distributor Acceed. Equipped with the Intel Xeon E-2276ME and up to 64GB DDR4 working memory with 2,400 MHz, the new controller provides workstation performance for hybrid PXI systems in multitasking environments with several simultaneous and independent measurement or testing tasks. The integrated GPIB interface (Micro-D) is an additional highlight for fast data communication with PCs and further external devices.
The PXIe-3988 from Adlink, now available from the distributor Acceed, QM-certified in accordance with DIN EN ISO 9001:2015, is a top performance category chassis controller. It is suitable for installation in different system casings, for example the 3-HE chassis PXES-2785 with 18 slots, also available from Acceed.
The controller was developed specifically for demanding operation in PXIe-based test systems. With its 9th generation Intel processor Xeon E-2276ME (Coffee Lake), the machine is uncompromisingly optimised for energy efficiency and performance and can perform four independent tasks simultaneously on a single processor with corresponding system configuration and data throughput of up to 16 GB/s. With this, system integrators and developers in high-tech sectors can in particular use the PXIe-3988 competitively for processor-intensive workloads.
"With the rapid growth of the testing tasks in various sectors, customers have high requirements of the performance capability of applications in sectors such as electrical vehicles, telecommunications, semiconductors and optics" according to Jeremy Wu, Manager of the IoT Solutions & Technology department for the manufacturer Adlink. "The PXIe-3988 is a powerful and nonetheless budget-conscious choice which does justice to the requirements of these demanding test and measurement applications."
In accordance with the targeted uses in the area of testing & measurement, the PXIe-3988 is neither sparing with its interfaces nor its storage options. Two USB 3.0 ports, four USB 2.0 ports, two GbE ports (one for LAN connection and the other for controlling LXI measurement instruments), two display port sockets and the integrated GBIP (General Purpose Interface Bus IEEE 488) for fast communication with PCs and further external devices ensure the necessary flexibility for a variety of tasks. Trigger I/Os for sophisticated PXI trigger functions and a programmable RS-232/422/485 interface round off the equipment. Acceed offers the controller either with pre-installed SATA HDD as of 500GB or with SSD.
The high availability required for reliable test systems is also achieved with the double BIOS backup. If the main BIOS has crashed, the system boots from the secondary BIOS and automatically restores the main BIOS. This can avoid costs and work for servicing. Moreover, the full metal housing elements protect electronic components and improve electromagnetic compatibility.
For example, the new Adlink controller forms an extremely high performance, reliable and secure platform for numerous laboratory applications and under industrial conditions with the current 3-HE chassis PXES-2785 and 18 slots which is also available from Acceed.
For detailed information about PXI/PXIe systems and further components for industrial measurement and control technology, please refer to the Acceed website www.acceed.com/pxi.