ExpertDAQ: IoT components reliably available from Acceed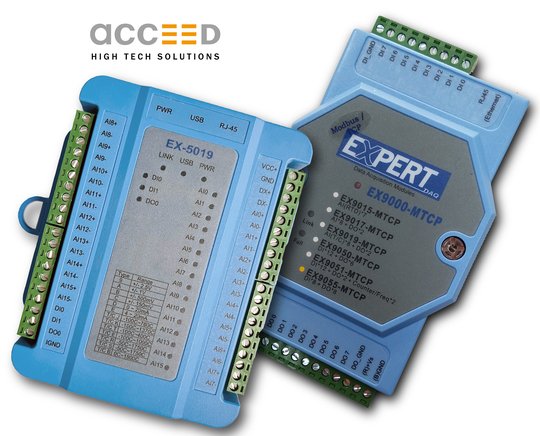 The expansion of the IoT infrastructure will still take quite some time. In particular, the retrofitting of existing architectures in the industrial sector as also in the facility management area for private and public real estate projects still requires the use of a large number of IoT components. Unfortunately, broken delivery chains have been causing problems for quite some time. The German distributor Acceed has now reacted to this situation and taken over the business area Europe for the manufacturer TOPSCCC and its ExpertDAQ brand. With this, Acceed extends its wide-ranging network technology portfolio with important and, above-all, IoT components which can be delivered fast.
In addition to sensors, the key components for industrial Internet of Things architectures and Smart Home applications are primarily the small, specialised relays and data converters. Here, the Smart Home sounds less than it really is. In principle, the same sensors and above-all gateways are used for flats, large properties, production sites and industrial areas. However, with regard to their performance and operational safety, the respective products from the professional industrial area demonstrate considerably better quality. Therefore, also Acceed banks exclusively on tried and tested components developed for a wide range of applications which meet industrial requirements such as increased ambient temperatures or high physical burdens.
Moreover, Acceed supports its customers with project-specific software development. This should primarily significantly speed-up system availability and readiness for use for the customer without burdening resources on the customer side at the same time. In addition to the compatibility of data protocols and interfaces, software selection and configuration is highly significant for the interaction of individual components in intelligent networks. Finally, the software decides when and how which data leads to which actions. As a distributor, Acceed already pays attention to the best possible mutual benefits and optimum interplay with regard to the expected functions when selecting the hardware. At the same time, it normally means that it need not be components from one specific manufacturer which best contribute to the solution. Here, Acceed takes advantage of its direct contacts to various manufacturers in order to combine the leading developments in the respective area concerned.
Acceed emphasises that it focuses on the implementation of very short delivery times with its extension of the portfolio for its customers. Most of the critical components can be delivered immediately or fast. Also, tested customer-specific configurations can be delivered with a rollout of several hundred units per week.